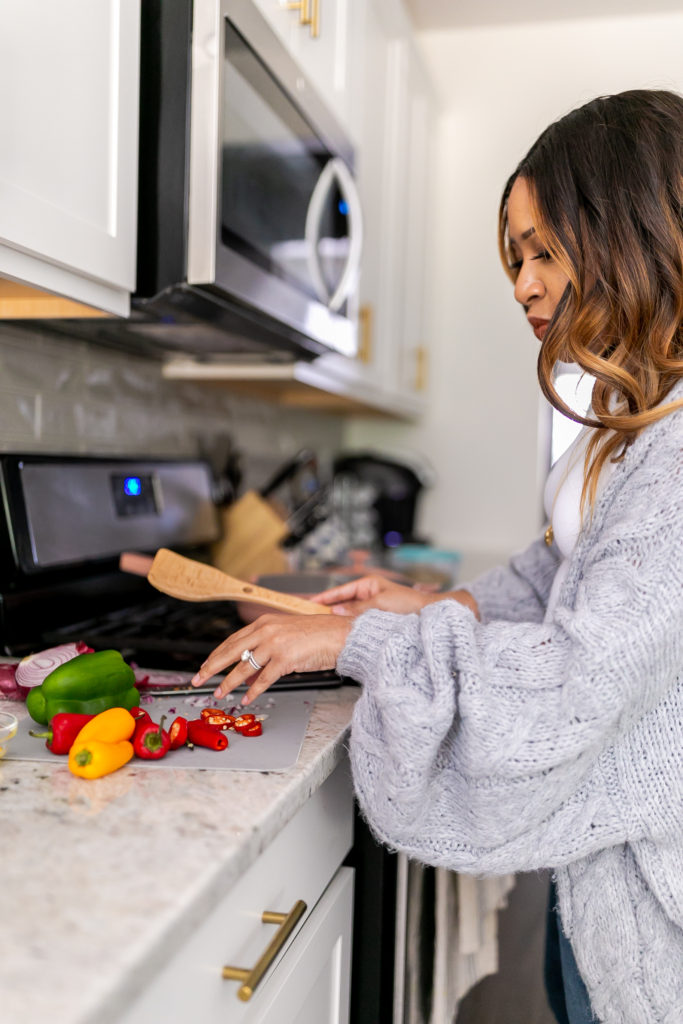 Thinking about what's for dinner is always such a daunting task for me. I can write an entire sales page and create a concept for a brand campaign in the matter of minutes.
PHOTOGRAPHY // Erica J. Simmons
However, when it comes to feeding my family at the end of the day – I'm often stumped.
I recently read The Lazy Genius Way (you will love this book!) and listened to her podcast on trying a meal formula in the fall and it helped me in leaps and bounds.
Why haven't I been focused on the recipes that include the things my family likes to eat?
Why have I been trying to become Pinterest perfect Mommy in the middle of a global pandemic?
It just hasn't been adding up.
What I really like about Kendra is that she gives you a formula and subconsciously gives you permission to be yourself by making it your own. And that's what I found with this meal formula. Once I learned what it was, I was instantly able to make it my own.
Here at my house we eat chicken, turkey and fish pretty regularly. For carbs, we like rice, potatoes and pasta. (Who doesn't?) So I'll squeeze in spaghetti whenever I can and roast potatoes or throw them in the air fryer. We don't eat a lot of bread, but you'll like find a pack of Hawaiian rolls in the pantry as a nice backup in case the kids don't like their meal.
Saturday mornings are reserved for pancakes from scratch. It's a family tradition that's been going on since Chris and I were engaged and we've tweaked it for this current season now that we have little kids. So because we do it big from breakfast, we relax for dinner and keep it leftovers from earlier in the week or take out. So we never wonder about what to cook on Saturday evenings.
Because I shoot photos here at the house for 3 hours that overlap the lunch hour, I've realized that ordering takeout for lunch on those days serve our family best in this season. So because I order lunch, I like to cook (or have Chris cook) on Tuesdays and Thursday especially.
Friday night has become movie night and because we're all in relax mode to watch a movie together as a family ordering some pizza or Japanese food always ends up being the move.
So dinner usually needs to be covered from Sunday thru Thursday.
I take a look at what's already in the fridge and pantry and base my meals off of my current inventory. If I have a taste for something or there's been a specific request, that's the only time I'll plan on cooking something "special." Other than that, the simpler I can keep the dinner plan, the better.
Once I decide, I write it down and try my best to stick to it. Sometimes I become more busy or things get more hectic and we order takeout during the week. No big deal. But anytime I write down what we're eating at the top of the week, we usually end up sticking to the plan.
Here's what we're eating for dinner this week according to my groceries and meal plan.
MONDAY
Beef roast with jasmine rice and mixed veggies
Made a roast on Sunday night but it ended up taking longer than anticipated. So we reheated it in the oven and had a prepped dinner for Monday night.
TUESDAY
Ground turkey tacos with yellow rice and black beans
Ideally, we do Taco Tuesday every week. The kids absolutely love it but sometimes me and Chris aren't in the mood for tacos weekly. I won't lie, it makes the weekly dinner menu so easy. I think I'm going to attempt to mix it up on Tuesdays – taco bowls, fish & shrimp tacos, chicken tacos and then turkey tacos to create a variety. That could be the answer I'm looking for.
WEDNESDAY
Salmon Alfredo penne pasta
This is one the easiest things to make and everyone in my famiy loves it. Sear some wild caught salmon with some S&P in olive oil while cooking some penne. Once pasta and fish are cooked, throw it all in the same pan with some chopped fresh spinach and cherry tomatoes. It's so tasty.
THURSDAY
Turkey burgers and fries
It's such a clutch meal. I never have any pushback from anyone on this. I've been doing regular fries for the kids and sweet potato fries for me and Chris in the airfryer. Those sweet potato fries with ranch dressing?! YES.
FRIDAY
Takeout
Hibachi, pizza or even platters from our local fish market. I just know I'm not cooking.
SATURDAY
Baked paprika wings with oven roasted potatoes and broccoli
Working on a post on this wing recipe because it's so delish especially if you let the wings marinate overnight.
And that's what we're having for dinner this week. Hope I gave you some ideas and lightened the load of thinking about meals for your family.