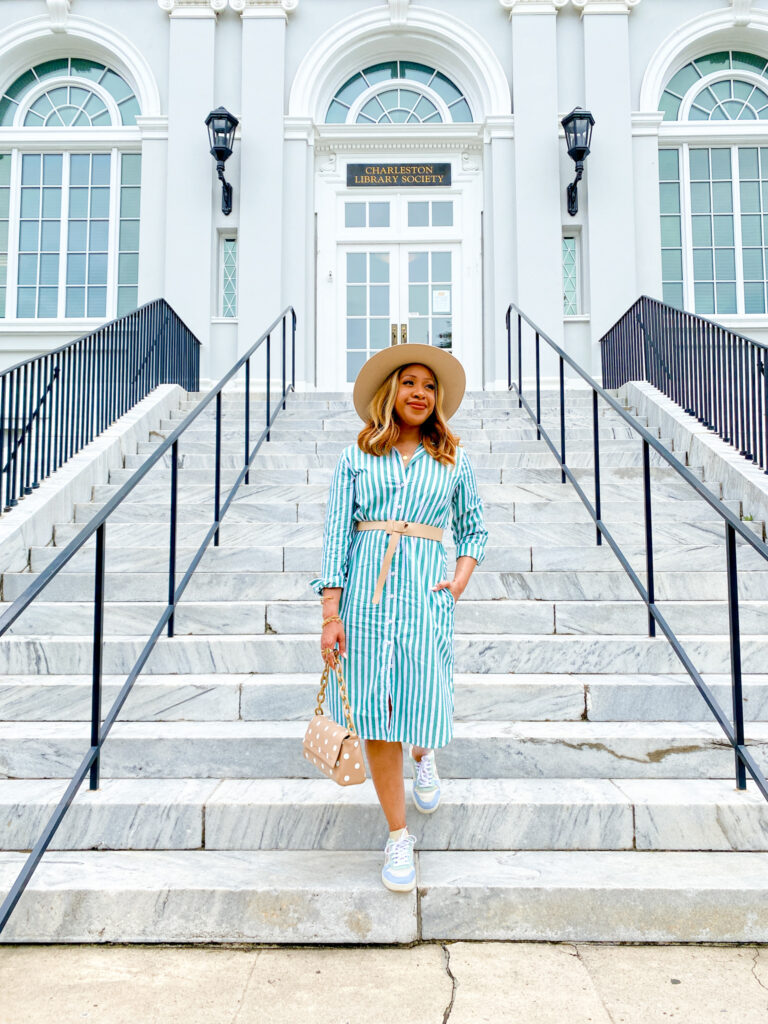 A couple of weeks ago, Chris and I went on our first childless vacation for the first time since 2017. Yes, 2017. You read that right.
We had absolutely been looking forward to this for months. We made a shortlist of places to go like Miami, Bahamas and Charleston. There were some great options, but because we didn't want to travel too far without the kids because they're still so young (and deal with post-COVID vacation crowds), we decided to go to one of our favorite places; somewhere we traveled for our first wedding anniversary – Charleston, SC.
Charleston is simply fantastic. We went in 2010 for our one year anniversary and had the BEST time. We were so young (26!) and childless which seems like so long ago, so it was nice to be able to revisit it in this current stage of life.
In my opinion, Charleston is like Savannah meets New Orleans. (This makes sense if you've been to both of those places.)

Charleston is Southern Hospitality at its finest – the food is delicious and you can get some good shopping done there while not being too far away from the beach with the backdrop of beautiful architecture. It is such a great trip for a couple getaway or even a fun yet charming girls' trip. It has such an appeal in my opinion.
We were able to carve out 4 days for vacation and the priority of this trip was R&R. I wanted to sleep in, sleep in some more, get a massage and eat good food. After a hectic start to 2021, we certainly needed the recharge and we knew that Charleston could offer us just that.
Here's what we did on our trip in Charleston – where we stayed, ate and what we did.
WHERE WE STAYED 
Hotel Bennett
This time around, we stayed at Hotel Bennett. The next time we go to Charleston, I would absolutely stay there again because – bathtub. It was just the two of us, so we opted for the smallest room the hotel offered and the bathroom was still spacious and absolutely glorious. The tub, the shower, all of it – the bathroom was such a highlight for me. I took a bath everyday – one day I even took one twice. 
You guys know me and my morning ritual – even though I didn't post it on social media, I did my morning glass of water and cup of coffee in the room everyday like I would at home. (What can I say? I'm a creature of habit.) The room had a Nespresso machine in it – which was my first time having it – and the coffee was delicious.
Also: the service was fantastic – which is the expectation at a 5 star hotel but not always the reality. However, from the moment we got out of the Uber and arrived at the hotel until we left to come back to Atlanta, the staff was helpful, willing and lovely.
The hotel also has a top rated spa where I planned to get a massage, but you MUST book that at least two weeks in advance because the spa is open to the public. I made the mistake of waiting to make an appointment when I arrived and there were no slots available. I definitely learned my lesson and will book my massage in advance next time.
Hotel Bennett is also known for their rooftop pool – and guess what? We did not make it there once. LOL. I know, I'll definitely take advantage next time.
The room service is also great because the menu is based off of all of the restaurants – Gabrielle, Camellia's & La Patisserie. We had the MOST delicious dinner & dessert the first night we were there, we ordered it again with room service our second night there.
But hands down, one of my favorite things about Charleston is the food.
WHERE WE ATE 
Gabrielle, Camellia's, Hyman's, Virginia's on King, Millers All Day, Peace Pie, Coast Bar & Grill
Gabrielle (the Hotel Bennett restaurant)
The first night we were there, we were so tired we just ate at the hotel restaurant. Gabrielle – which had just been recently renovated – is the hotel's main restaurant. Because we arrived on a Tuesday, it was slow and we were able to walk in for dinner. The food was absolutely delicious – like everything was delicious. The bread, the salad, the crab cake and my fish & grits were so tasty. 
However, Chris got the prime rib and it was so good that I ordered it for myself the following night with room service.
Naturally, we were pretty full by the end of dinner and opted to skip dessert. Our server was so great she surprised us with her favorite dessert to go – a berry tart with a mint cream. I'll be honest, when I saw it on the menu, it wasn't what I would've ordered.
IT IS EASILY THE BEST THING I ATE THE ENTIRE TRIP. Wow. Even Chris couldn't believe how good it was. We ordered it again before we left but it was just that good.
Virginia's on King
We had the good fortune of sleeping in until about 10:30a our first night there, so by the time we got dressed and out & about it was definitely lunch time. A lot of places on King St. are closed until 5p for dinner or were swamped because of brunch. 
Virginia's on King is one block away from the hotel and so we decided to eat there before walking King St. It's very much a brunch spot – they close at 3p. 
I got the chicken and waffles and Chris got the omelette. We also ordered a side of fries and it was the best thing we ordered from them.
For me, it was ok – both the food and service. The hotel had certainly set high expectations.
Hyman's
When we visited Charleston in 2010, we remembered eating at Hyman's. The service and the food always rise to the occasion. It's one of those staples in Charleston that you have to experience. There is ALWAYS a line to eat there – whether it's Wednesday or Saturday and they don't open until 5p. While you're waiting in line, there's someone offering hushpuppies from the restaurant. Our wait was about 25 mins even though we got there before they opened. So we walked a few blocks to kill time and then headed back to be seated.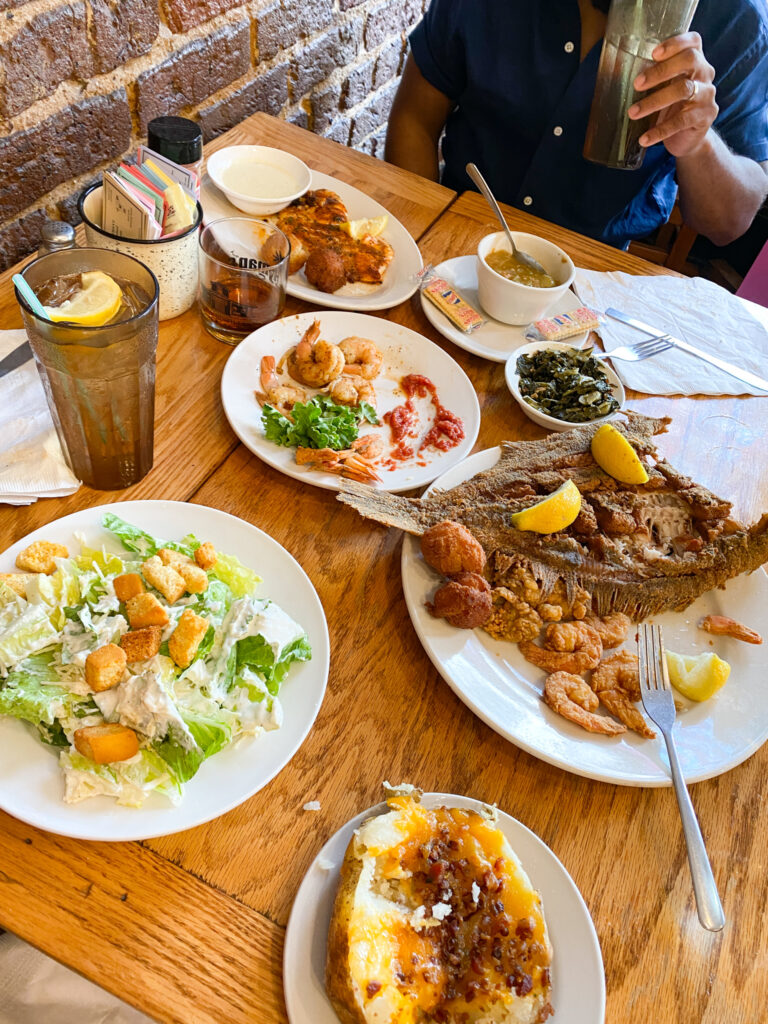 Hyman's gets it right. The staff is always friendly and food is always tasty.
Chris got the blackened grouper and I got the fried snapper. I forgot that when you order, they're giving you the entire fish.
Peace Pie 
After we ate at Hyman's, we grabbed a sweet treat from Peace Pie which is just a few doors down. They have the most delicious ice cream sandwiches. The sandwiches have a layer of pie filling and it is just as delicious as you think it sounds. I got the Birthday Cake ice cream sandwich which was birthday cake ice cream, vanilla mousse with sprinkles and shortbread cookie. No regrets at all.
Millers All Day
One of our favorite experiences was at Millers All Day, a brunch spot on King St. This is a popular spot and it's first come first serve. Our wait was almost an hour, but we walked around and shopped during the wait. The food was good – not the best we had during the trip – but the atmosphere was fantastic. We shared a massive cinnamon roll that was made out of a biscuit (OMG!) and their bellinis were delicious. 
WHAT WE DID 
King St. shopping & touring the architecture
Because the priority of this trip was rest & relaxation, we really didn't do a bunch. We walked the city whenever we were out and about since the hotel was on King St. One of my favorite things about Charleston is the architecture – it's so gorgeous. So we found ourselves walking a lot – just looking at the city buildings and admiring the beautiful neighborhoods as we walked towards the water.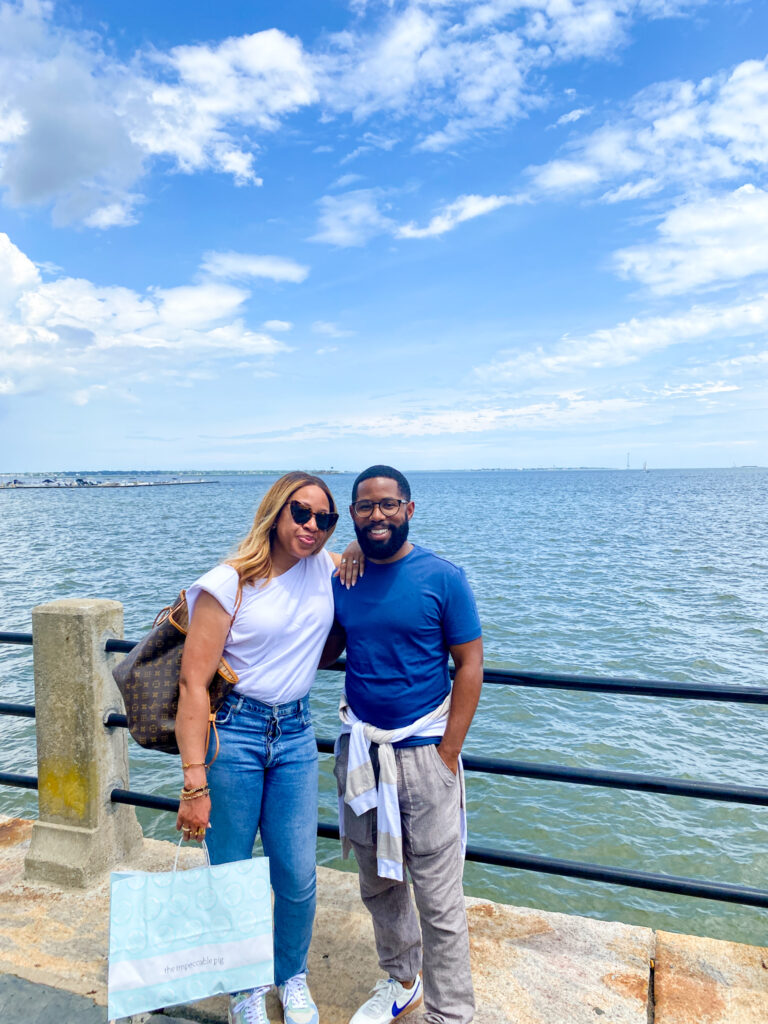 Obviously, I got a little shopping in. I made an "essentials" stop at Sephora (my Anastasia Brow Wiz broke), bought a dress from Kate Spade and a boutique called The Impeccable Pig. 
It was really such a lovely trip where I got to relax and enjoy myself. I told I could do an annual trip to Charleston because I love it so much. Hopefully, this list helps if you're looking to take a trip there soon.