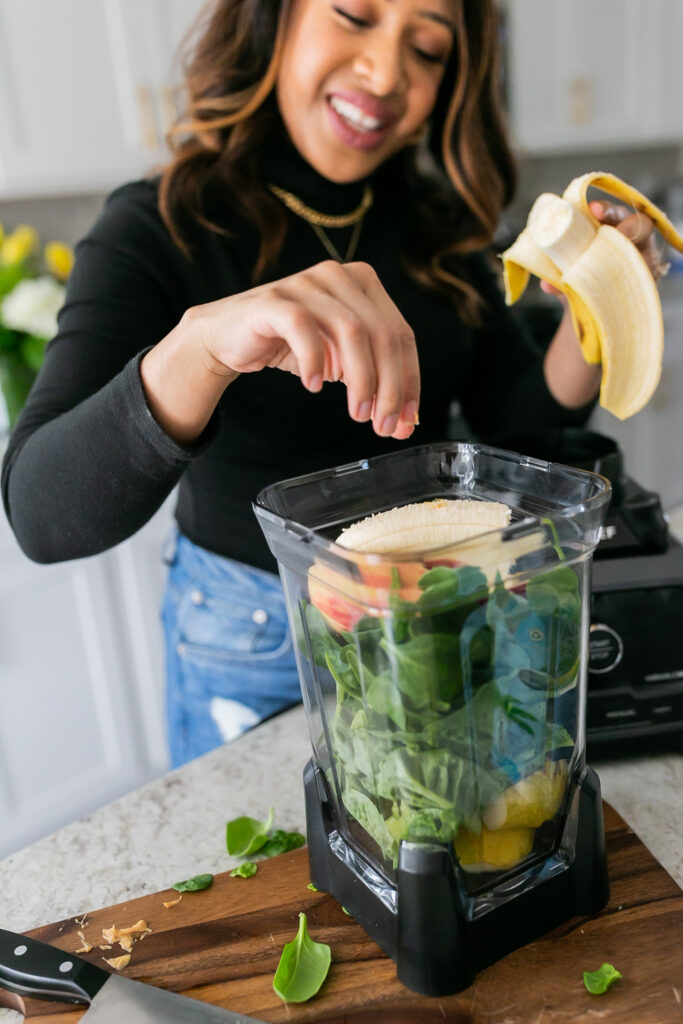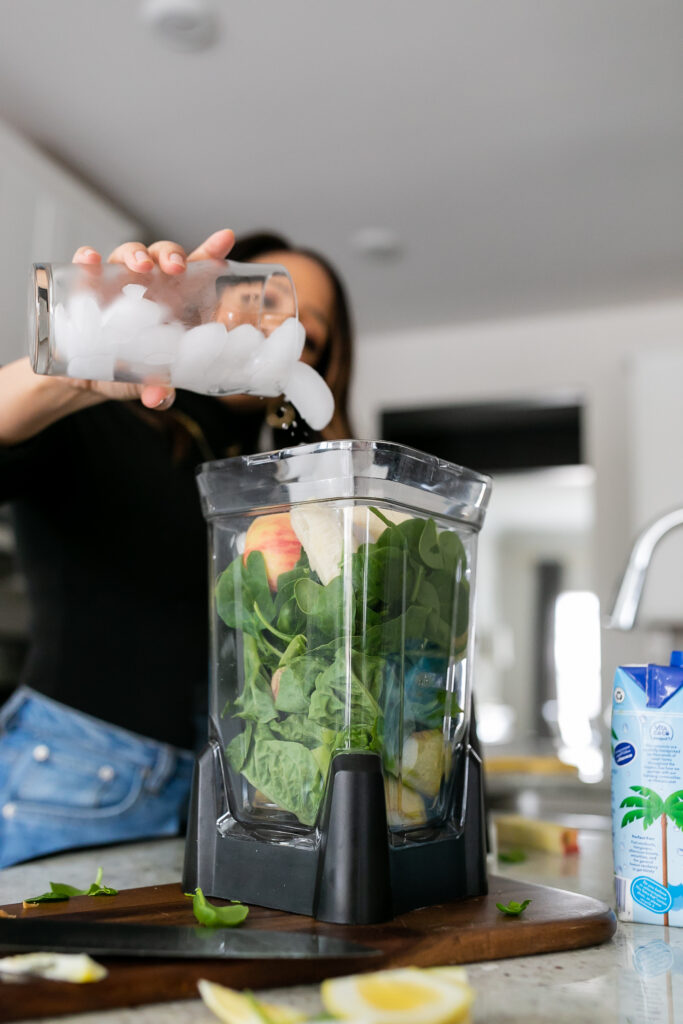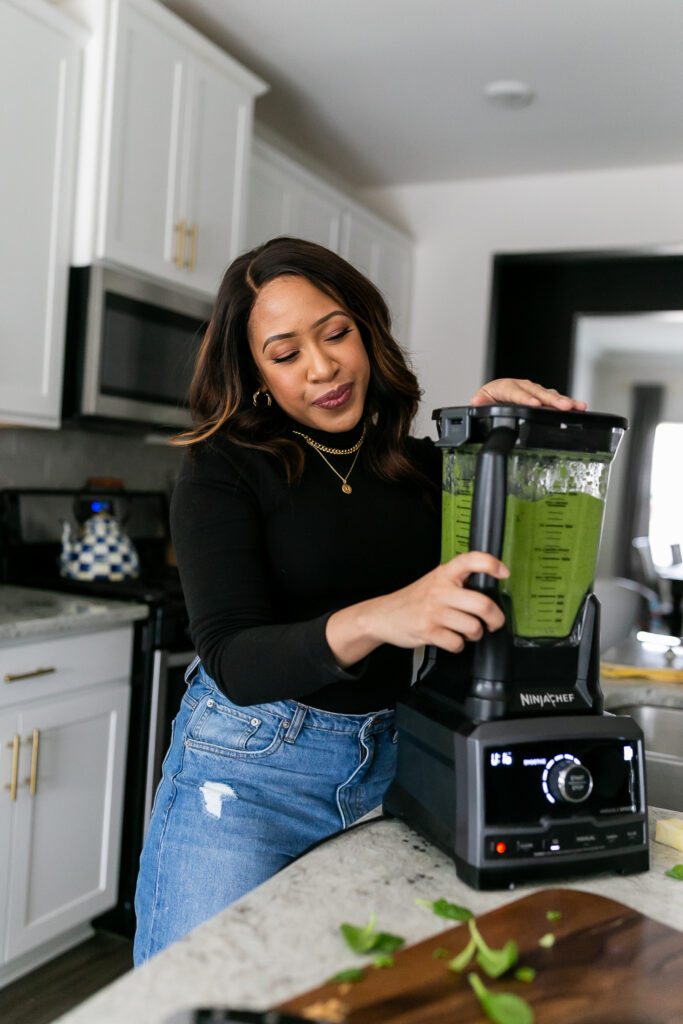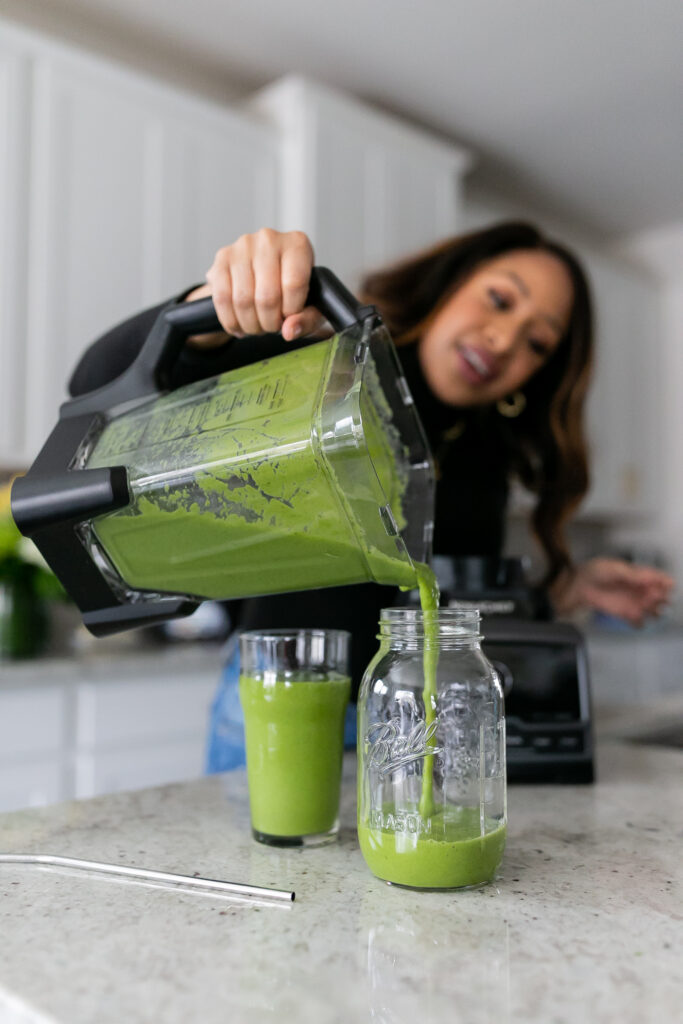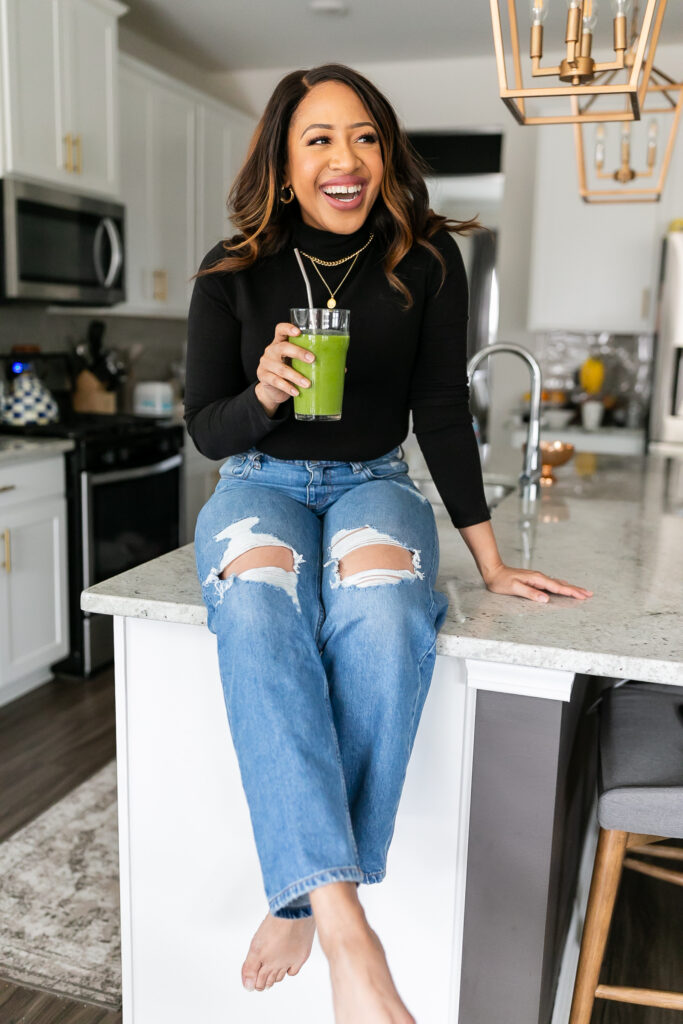 Last year I discovered a green smoothie recipe that is undefeated. It actually tastes delicious and makes your hair and skin shine like no other. And because it includes both romaine and spinach, it forces you to get your leafy greens without having to do the big salad or wilted spinach thing as a side. 
Sharing links to the blender I use plus some similar blender options (and a couple of wood boards similar to the one I used in this photo) below.

PHOTOGRAPHY // Erica J. Simmons
Listen, I know veggies are important because, health, but let's be honest. We don't always feel like a salad. At least, I don't. (Because, fries.)
This is actually a smoothie recipe that Reese Witherspoon got from Kerry Washington. Reese shared it on YouTube and I've been hooked ever since I tried it the first time. I've tweaked it a bit to make it my own – I use the white chocolate peanut butter from Peanut Butter & Co. instead of almond butter. What can I say, I have to indulge in some way…
Other than that, I keep the recipe as is. You can easily tweak this recipe to make it your own. I definitely will be trying this like mangoes instead of pears depending on what's in season, but that's what makes smoothie recipes so great – they're easy to make your own.
Here's the other highlight of this smoothie recipe – the romaine lettuce. Yes, I know that seems silly. But it's true. Romaine gives the smoothie a brightness that you don't get with spinach. Or even cucumber. And because it has tons of water, your skin is so hydrated.
Ok, enough with the back story. Here's how I make the green smoothie I swear by:
1 head of romaine lettuce
1 heaping handful of spinach 
1 lemon with the peel cut off
1 banana
1 apple
1 pear
1 tbsp of almond or peanut butter
8 oz of coconut water
Ice
There's no order of how to put this in the blender. My only suggestion if not to put the banana first or the nut butter last. Other than that, add to the blender as you see fit.
I use the Ninja Chef blender to make mine and it gets it smooth. No chunks whatsoever. The smoothie setting on this blender is GREAT. What I also like about this recipe is that it makes enough for two servings. I drink half immediately and save the other half in a large mason jar with a lid in the refrigerator. It usually holds up for 2-3 days without compromising the taste.
Getting my greens in is a must, so on the days I don't feel like eating a salad or watching my spinach wilt to virtually nothing when I cook it, this is the green smoothie that I swear by.