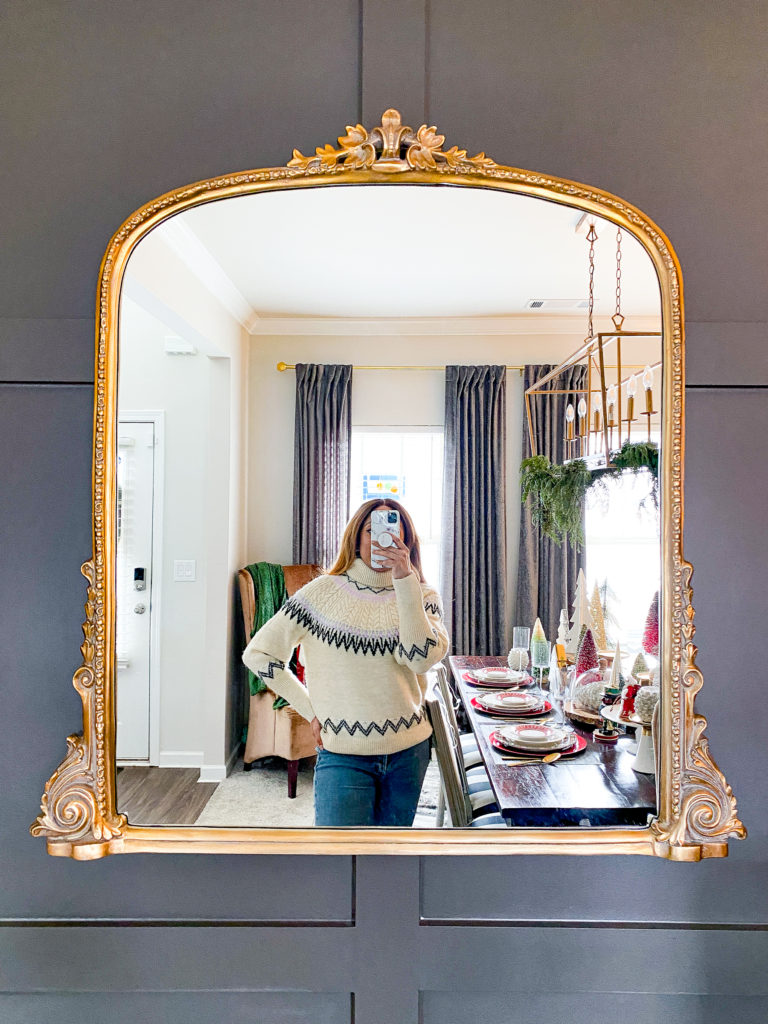 It's sweater weather and I recently updated my winter wardrobe with some new sweaters from Target. I think we can all agree that when you go to Target, you have to go with a list and tunnel vision or else you end up buying about $150 worth of sweaters you didn't need. Sometimes that isn't a bad thing. The quality of sweaters they have right now are so good because of the variety of colors, patterns and silhouettes. I like them because you can wear them with everything: with sweatpants, jeans and even over dresses.
I bought 5 sweaters from Target which is more than enough, but of course because it's Target, I have about 7 more in my cart that I've justified should be purchased.
Here are the 12 sweaters I'm loving from Target right now. (Click the bolded text to shop.)
SWEATERS I PURCHASED
A New Day Ruffle V-Neck Pullover Sweater
The color of this sweater is everything. I've worn it several times over the last few weeks with both jeans and leggings. It's TTS (true to size). I got a size medium and it's a tad big, but it was sold out in the color I wanted. No regrets, I just wear a cami underneath. Comes in mint green, black and grey.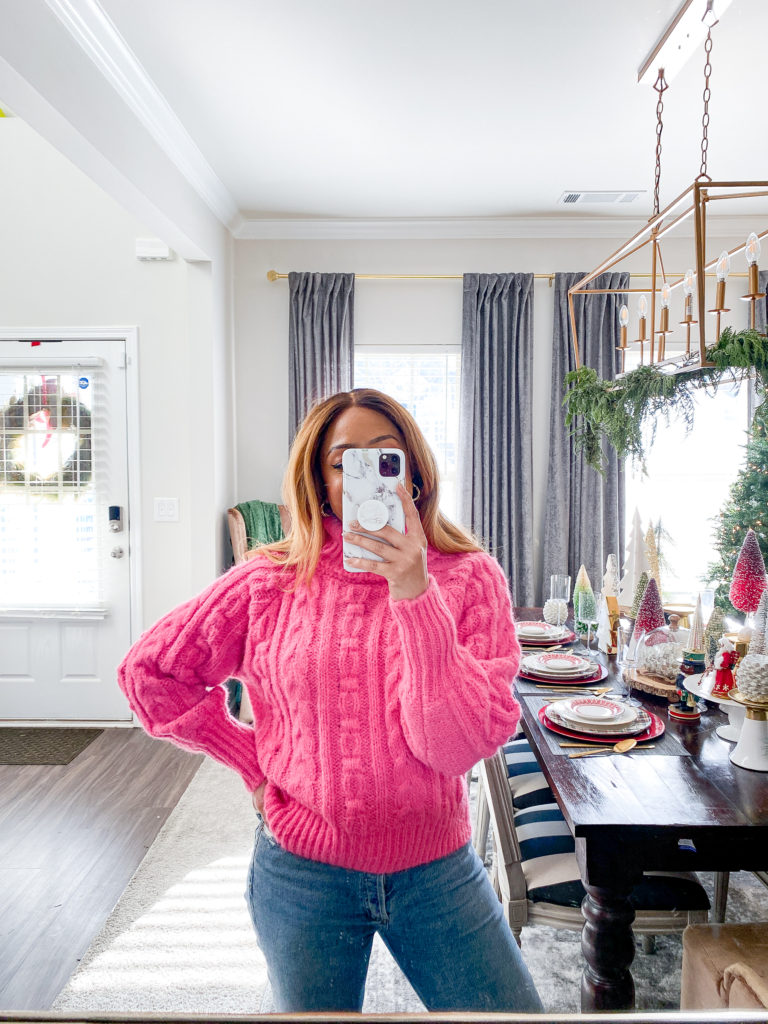 A New Day Cable Knit Turtleneck Sweater
I'm a sucker for cable knit, but once I saw this brink pink color, it was a done deal. So so good. I wore it with black leggings and combat boots for a casual weekend look. TTS, I'm wearing a size small. Comes in green, cream and yellow, too.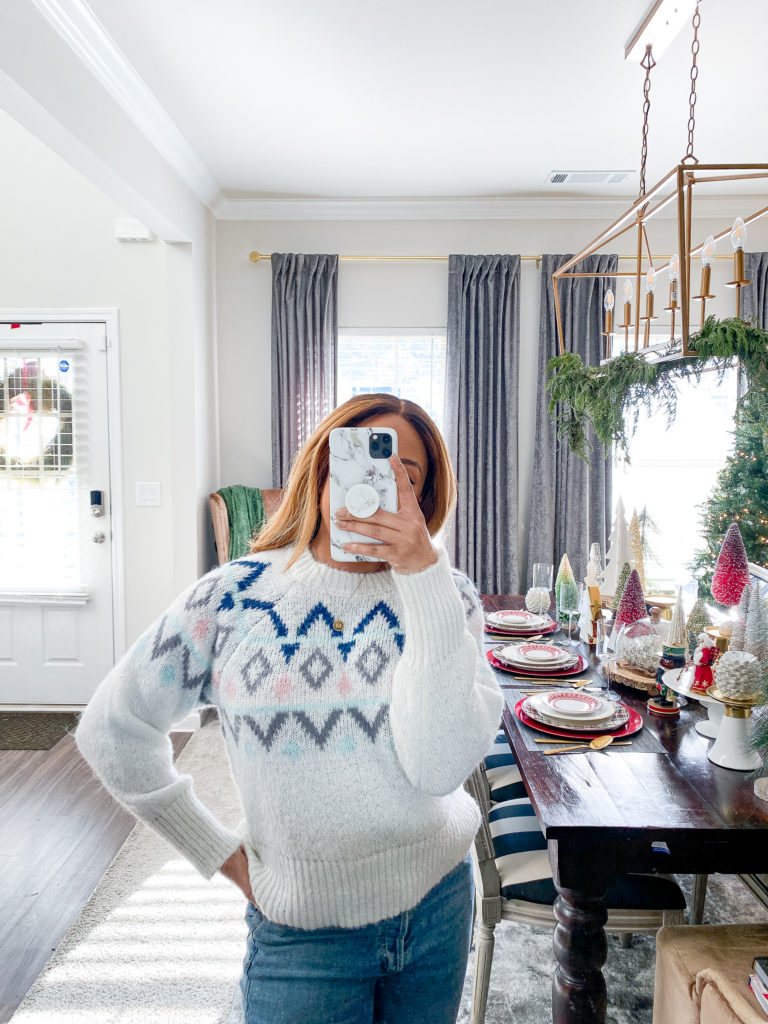 A New Day Fair Isle Sweater
Fair isle just screams classic winter to me. I wanted this in the mint fair isle color option they had, but in store they only had the cream. No complaints here, it looks so good. TTS, wearing a size small. Comes in pink, purple, yellow and mint fair isle, too. (Sold out in blue online.)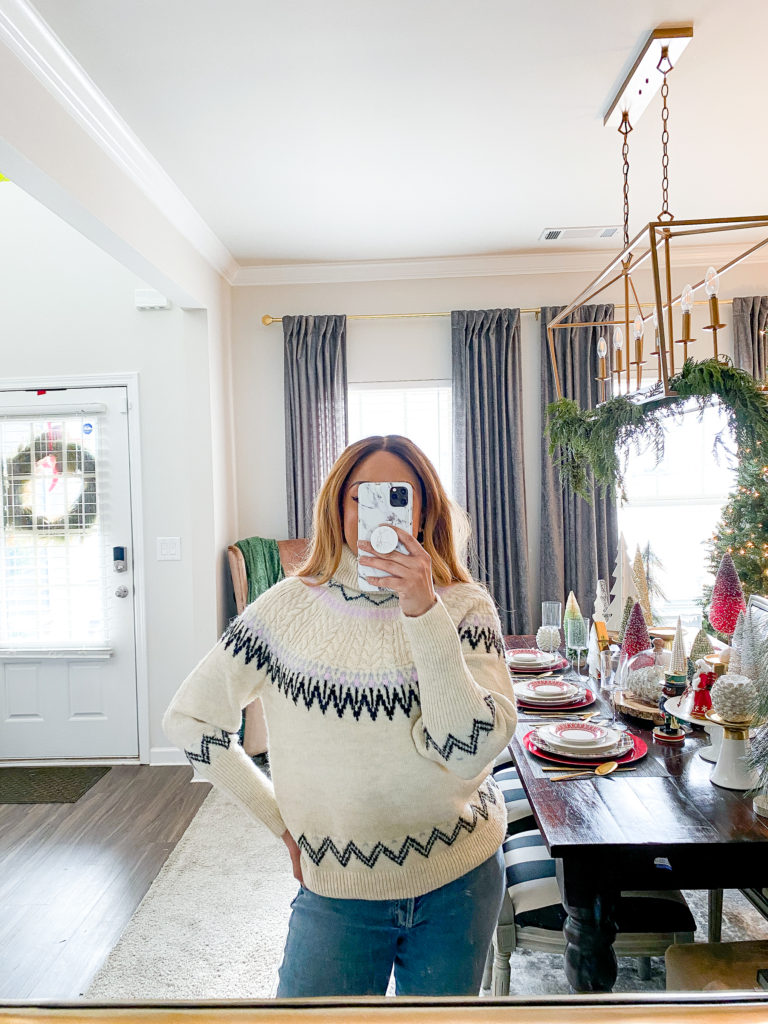 A New Day Turtleneck Sweater
My love affair with fair isle continues with this sweater. Turtleneck sweaters always get a lot of play from my wardrobe, so I was excited to add this one to the mix. TTS, wearing a size small. Comes in mauve as well.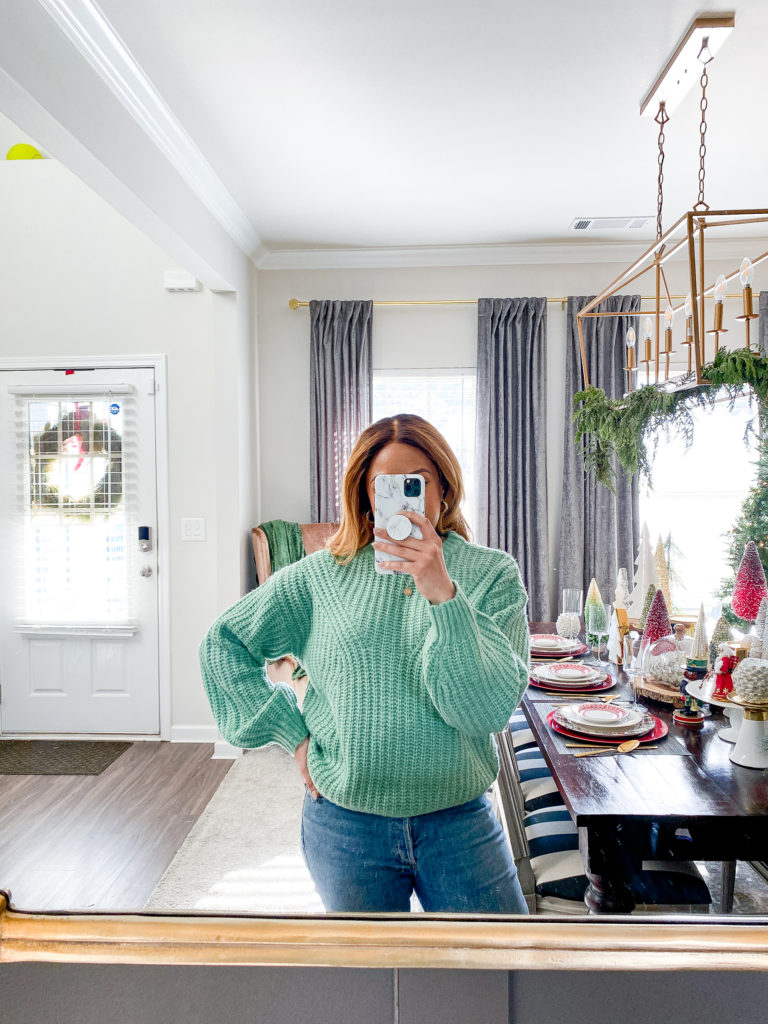 A New Day Pullover Sweater
This sweater wins because of the color options. I tried to contain myself and only bought the green, but there are no losers here. All the colors work. TTS, wearing a size small. Comes in gray, light purple, cream, pink, purple and yellow as well. (Sold out in Burgundy online.)
SWEATERS CURRENTLY IN MY CART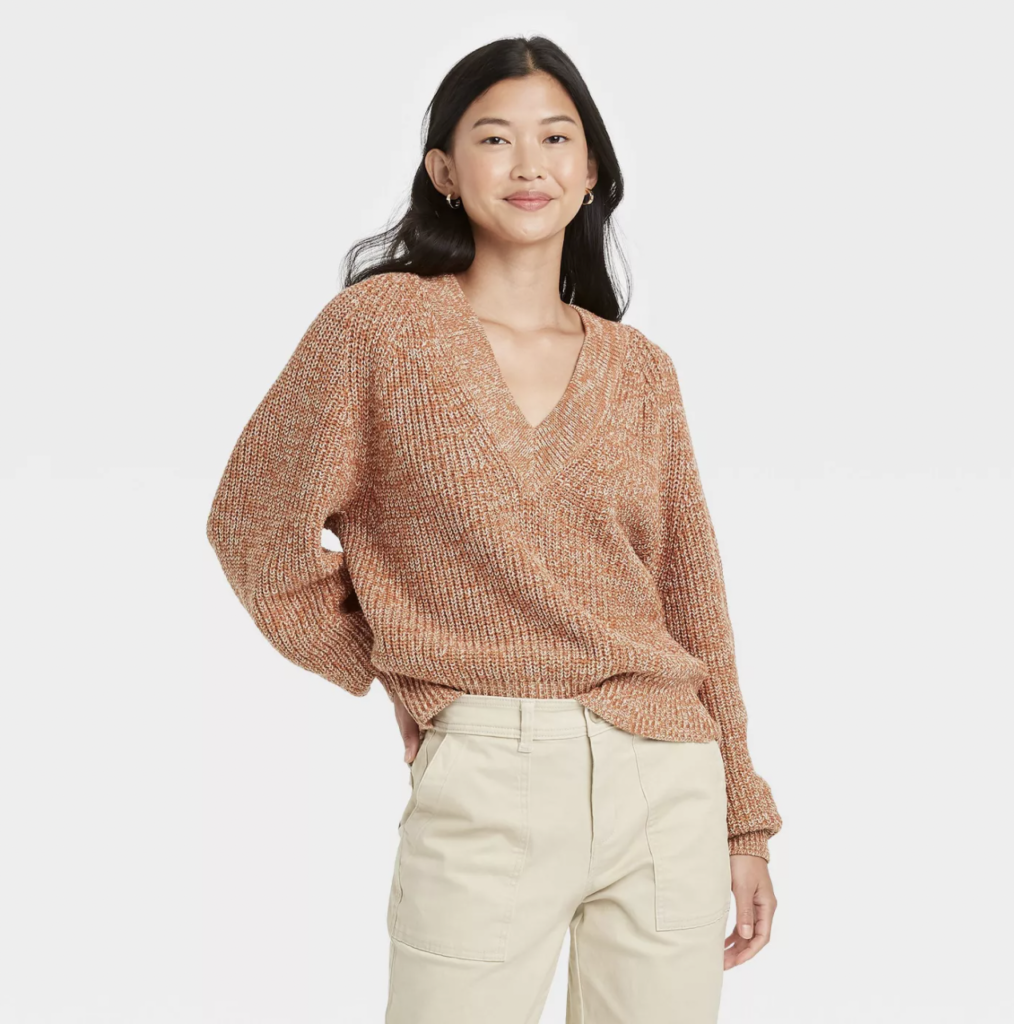 A New Day V-Neck Sweater
The kind of sweater to wear with jeans or trousers. Or even sweatpants while you're on a Zoom work call. This rust color is nice, but I also love the striped options they have. Also available in teal, dark pink & cream + 3 striped options.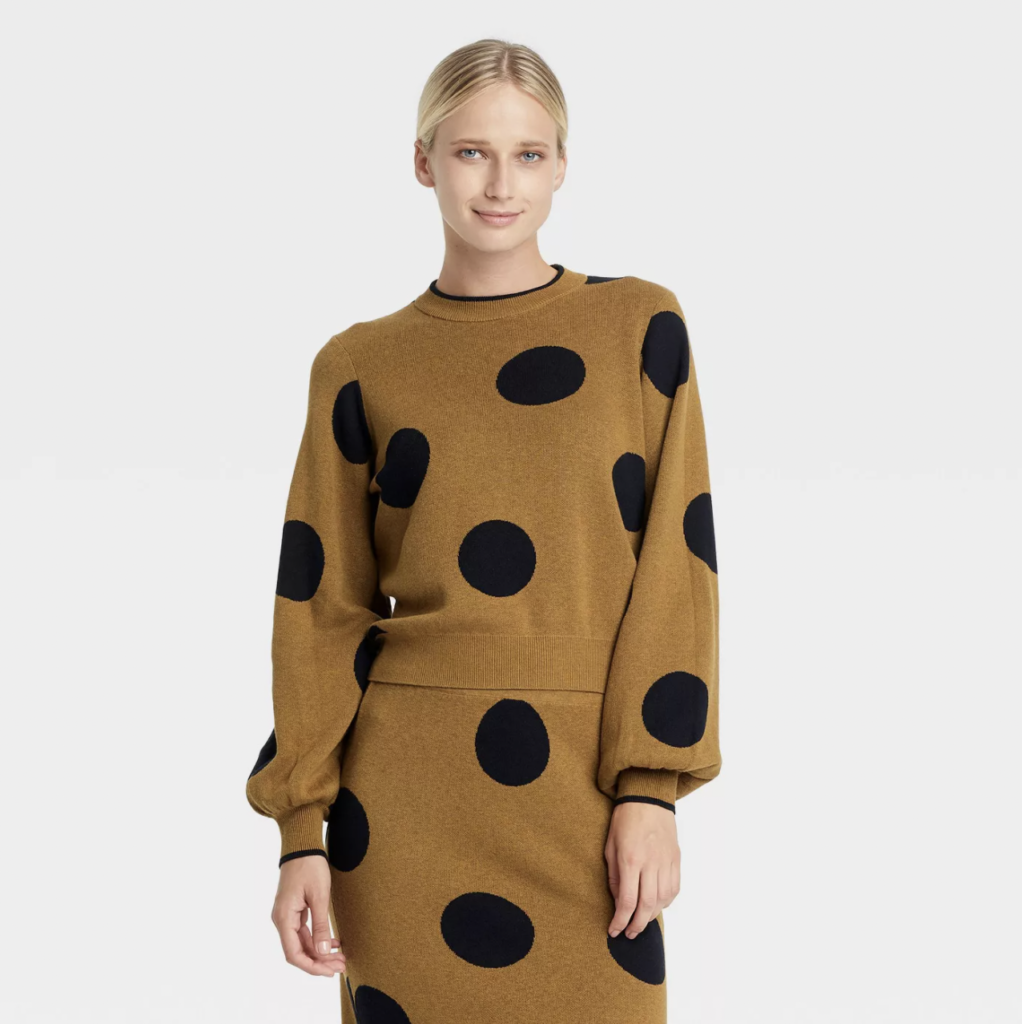 Who What Wear Crewneck Pullover Sweater
I'm a Who What Wear fan and this season their sweaters are good. This pullover comes with a matching skirt (who can resist a matching set?) but it's certainly good on its own. Also comes in light brown jacquard pattern.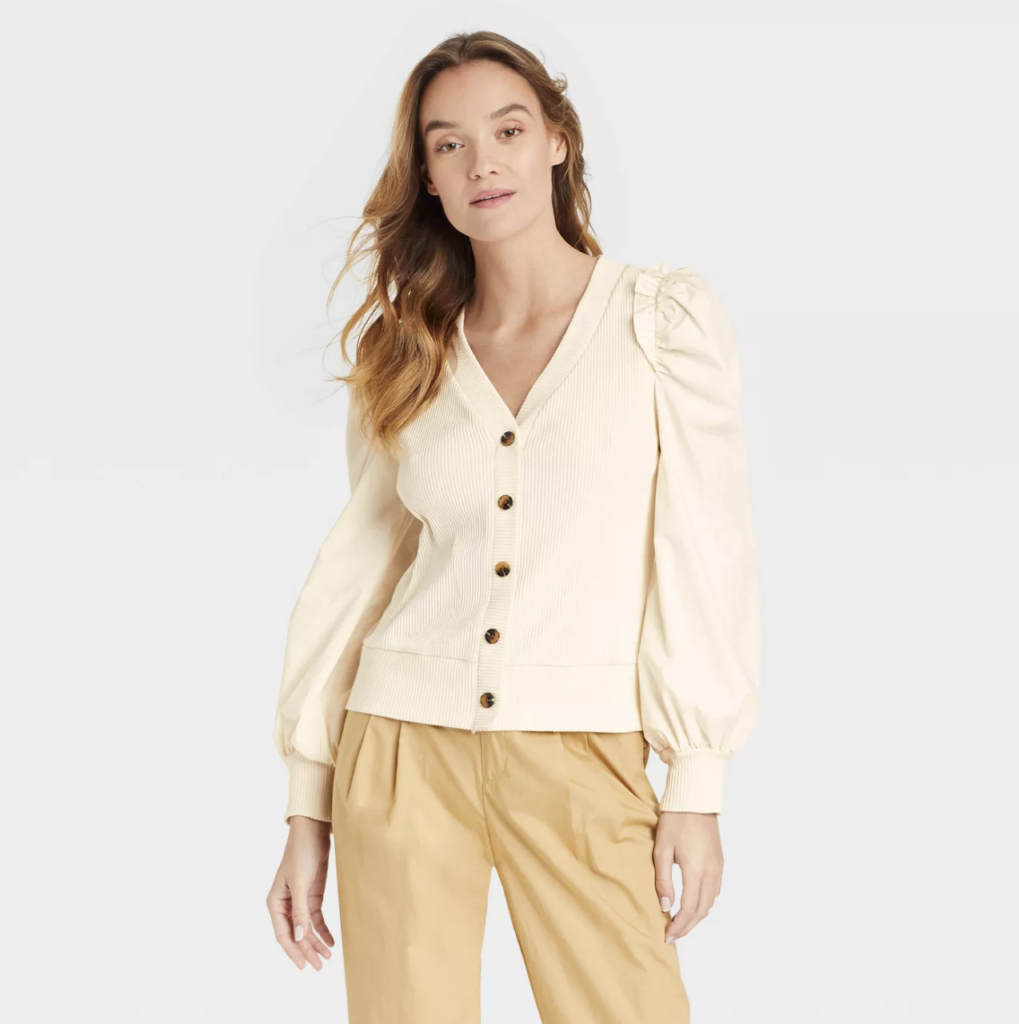 Who What Wear Cardigan
I love cardigans because they work in various seasons as a layer for both style and warmth. I was drawn to this one because of the exaggerated shoulders and tortoise shell buttons. Comes in black as well.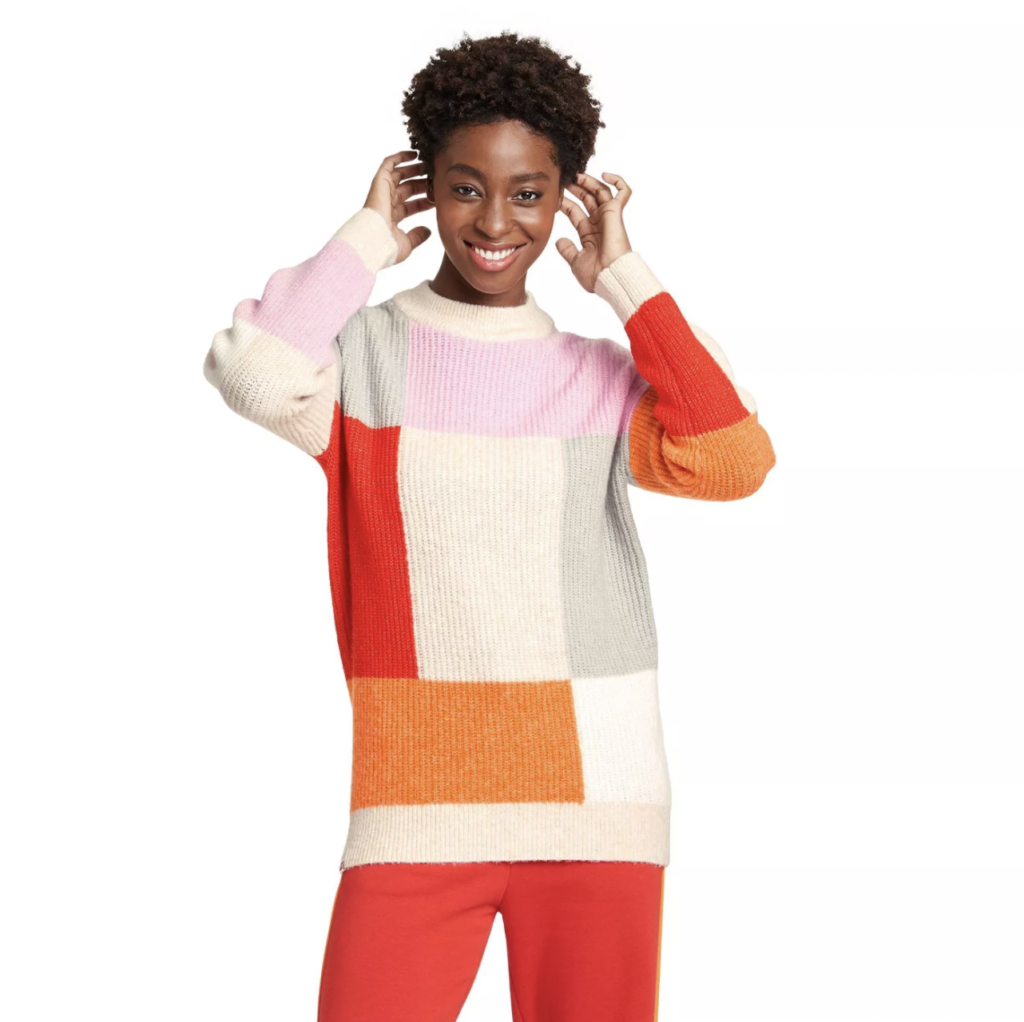 LEGO Collection x Target Color Block Sweater
Who doesn't love a good color block sweater? Target recently released a capsule collection with LEGO and the pieces are very vibrant, fun and colorful. In my opinion, this one works for both casual (with leggings and boots) or dressy (with a skirt + heels!)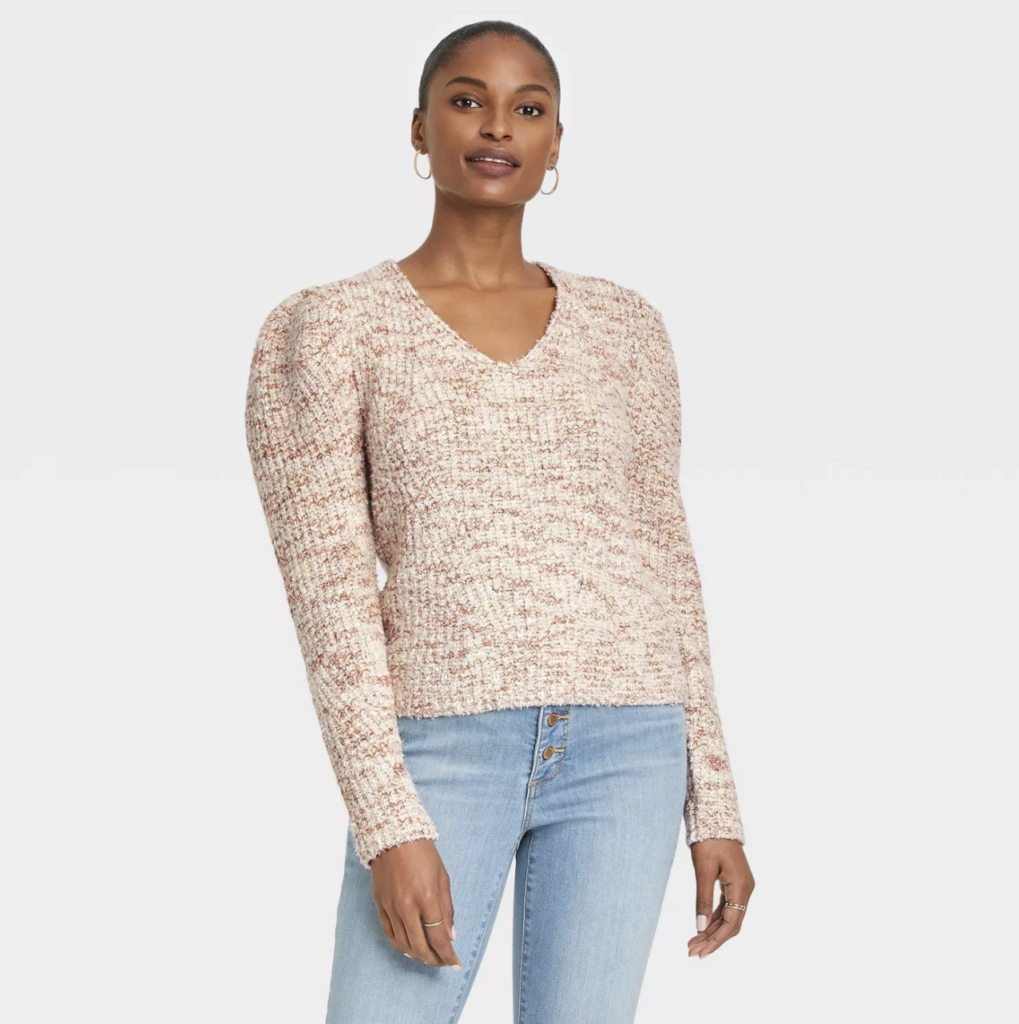 Universal Thread Pullover Sweater
The shoulders of this sweater were the first thing that stood out to me. The neckline is gorgeous, too. Comes in blue, blush pink and cream.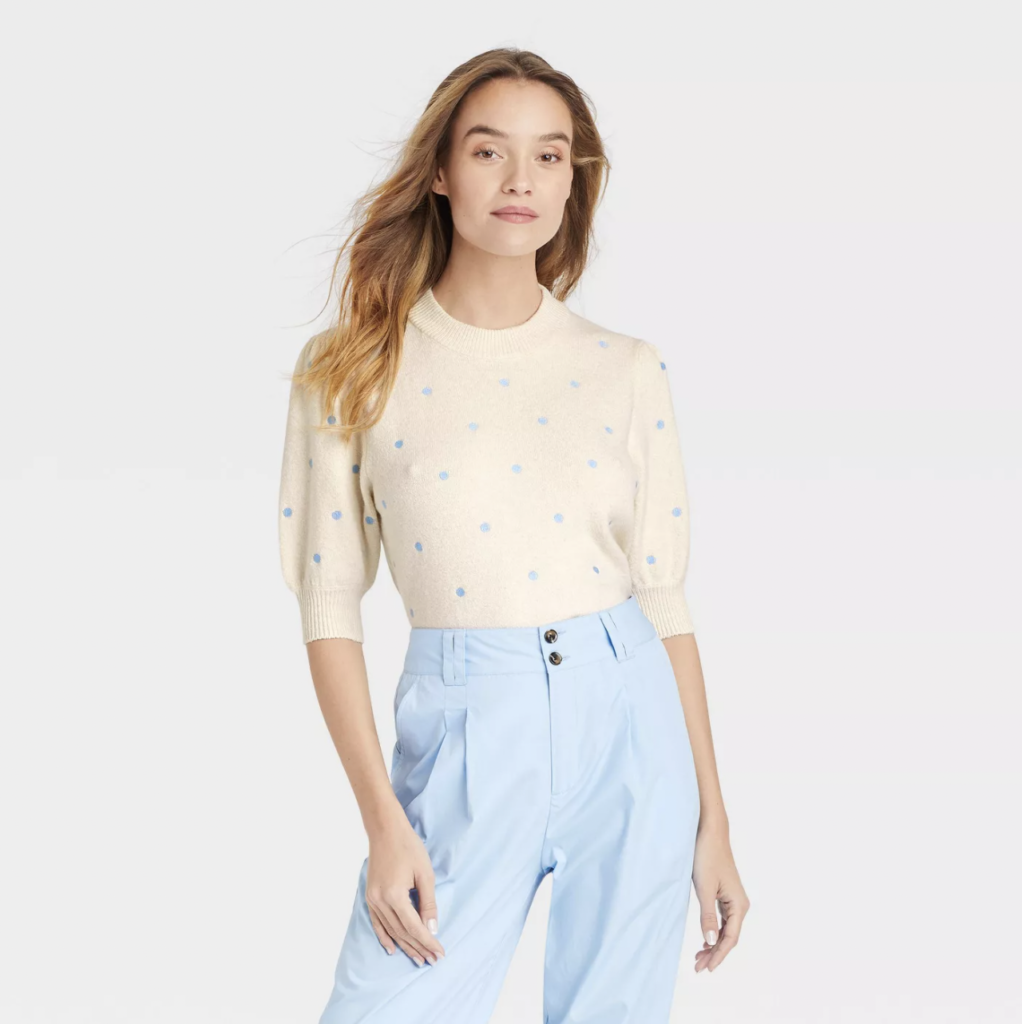 Who What Wear Polka Dots Pullover Sweater
I never need to be convinced to buy anything with polka dots. This feminine crewneck pullover sweater will carry you into spring with ¾ length sleeves. Comes in black polka dot and cream polka dot.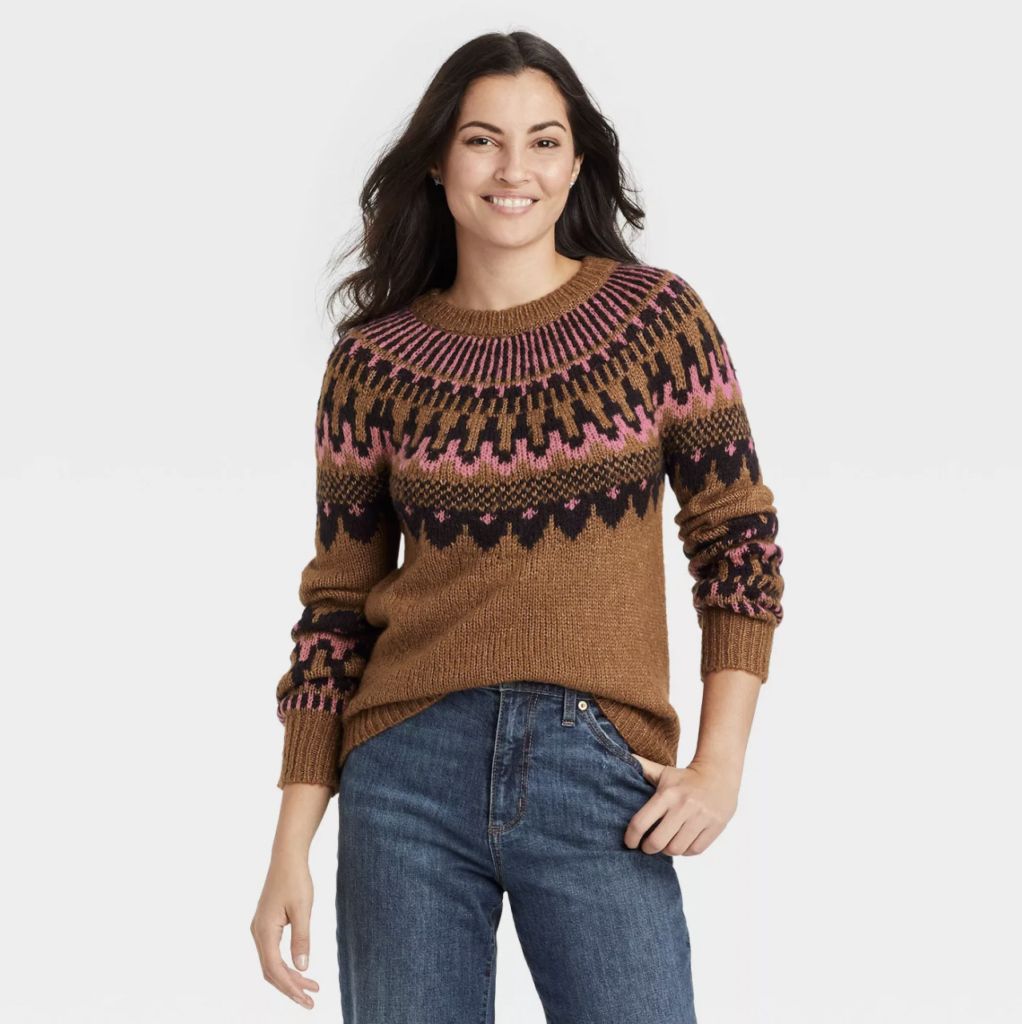 Knox Rose Crewneck Pullover Sweater
This brown fair isle sweater is such a treat. I'd wear this with a black leather skirt and patterned tights to stand out. Comes in multicolor, too.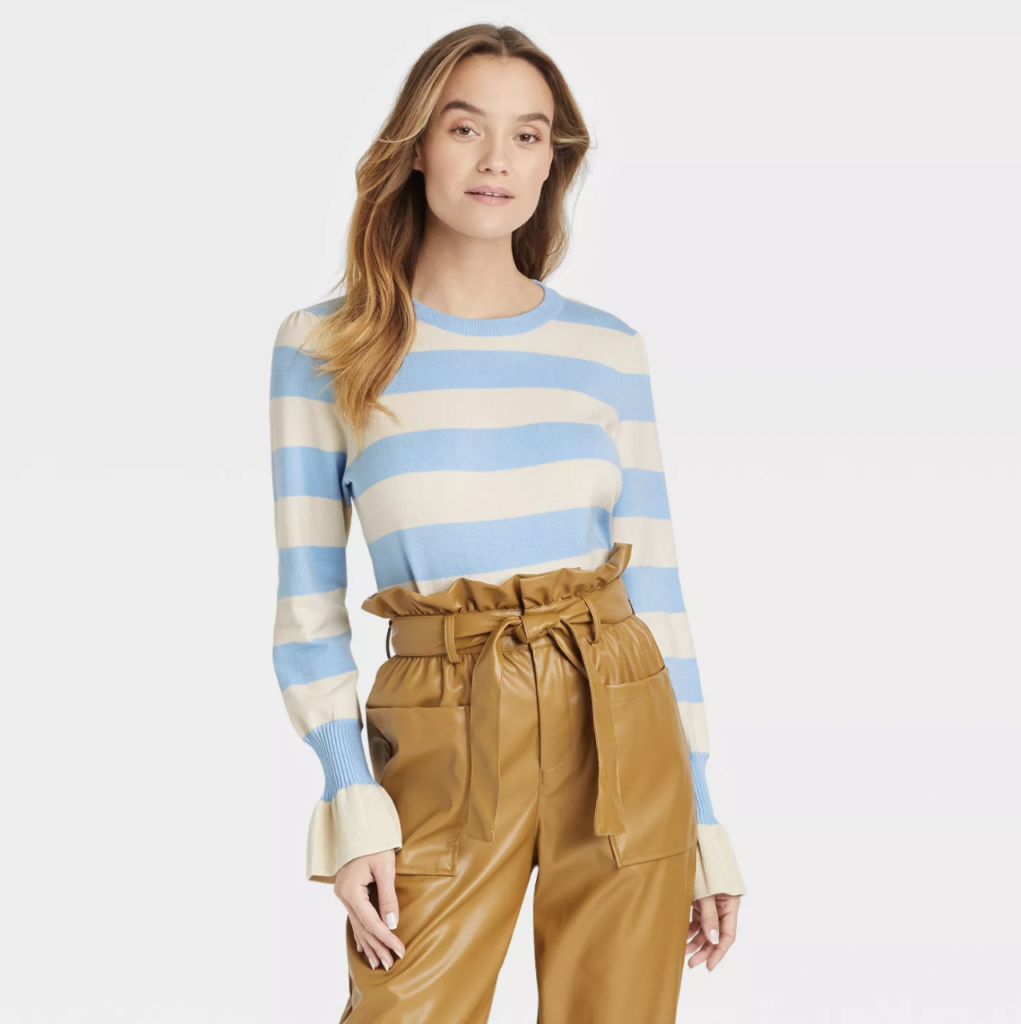 Who What Wear Striped Pullover Sweater
Stripes will never get old to me and sweaters like this are exactly why. Aside from the stripes, the sleeve detail on this pullover sweater is fantastic - it's tapered at the wrist and then flares out. Just, YES. Comes in black stripe and brown stripe as well.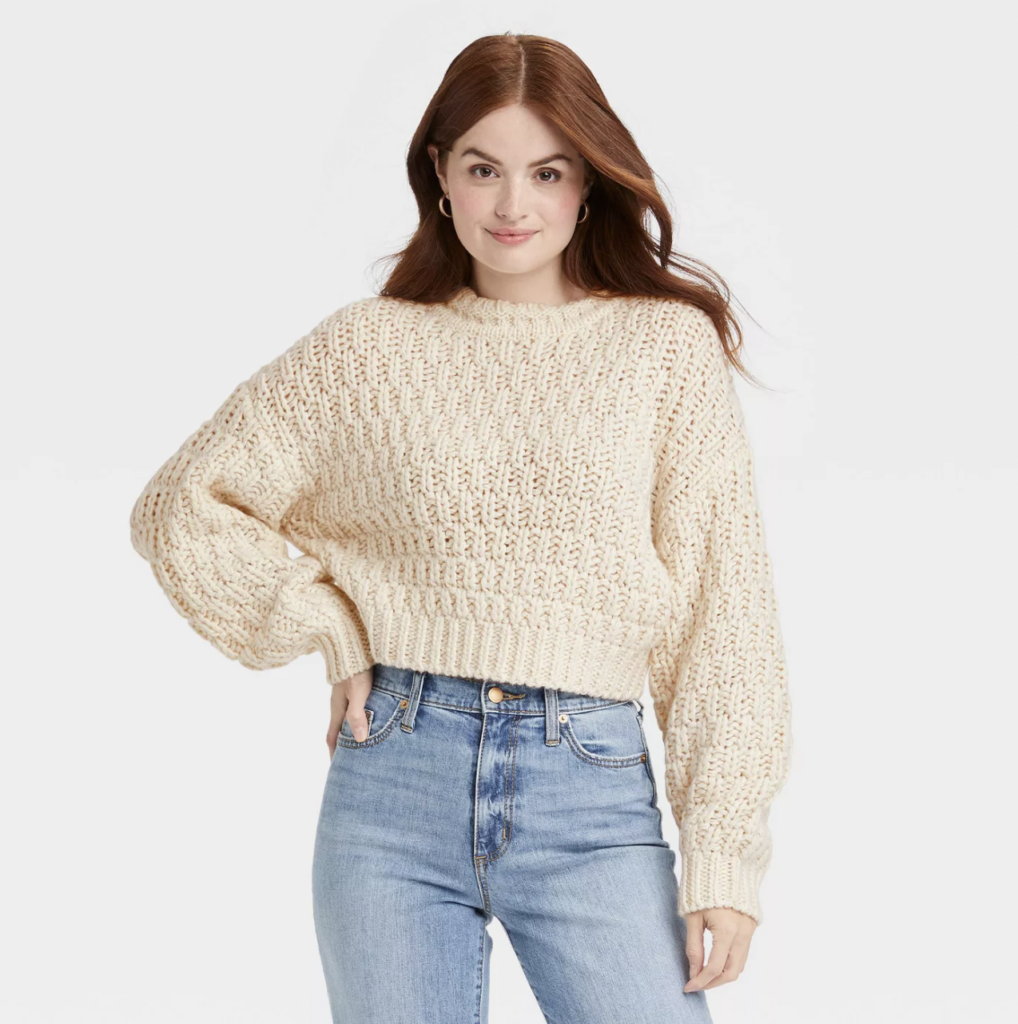 Universal Thread Knitted Pullover Sweater
A great knitted sweater will serve your wardrobe for many seasons because it goes with everything. Leggings, denim, trousers and skirts - I like to top my spring and summer dresses with sweaters to make them cold weather friendly, too. I'd wear this one with leggings and my favorite flat boots to pick up the kids from school. Comes in green & yellow space dye as well.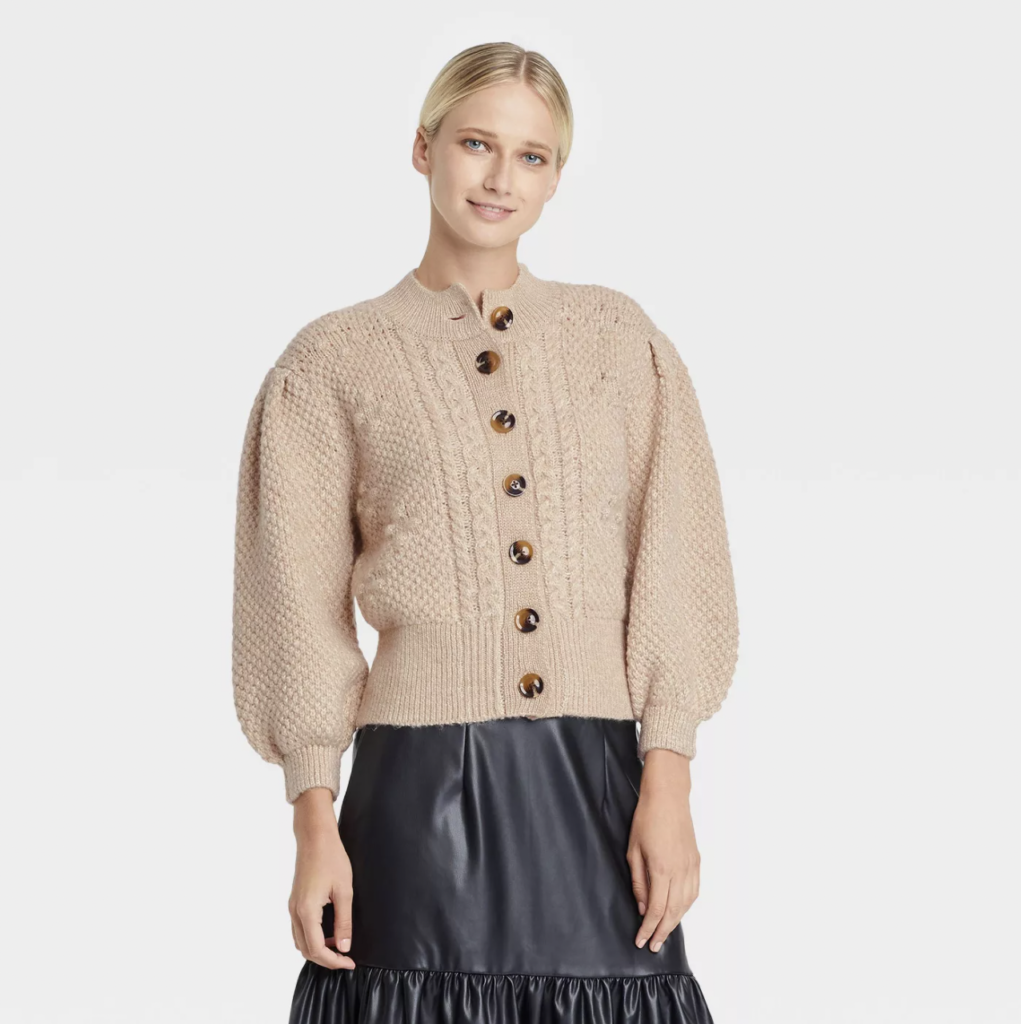 Who What Wear Cardigan
You get so much use out of a camel colored cardigan. This one is so cute - the silhouette and buttons are what do it for me. Comes in heathered blue, too.
So far, the sweaters I've recently gotten from Target have been in heavy rotation - especially the Turtleneck Cable Knit. If you're looking to add some sweaters to your winter wardrobe at an affordable price, Target has some really great options.