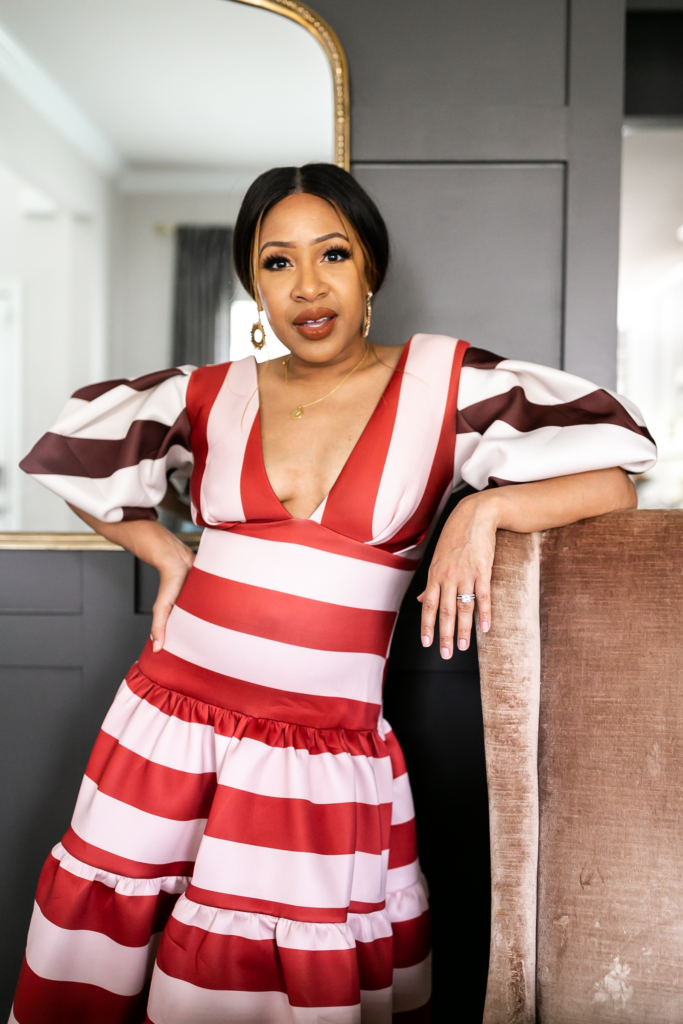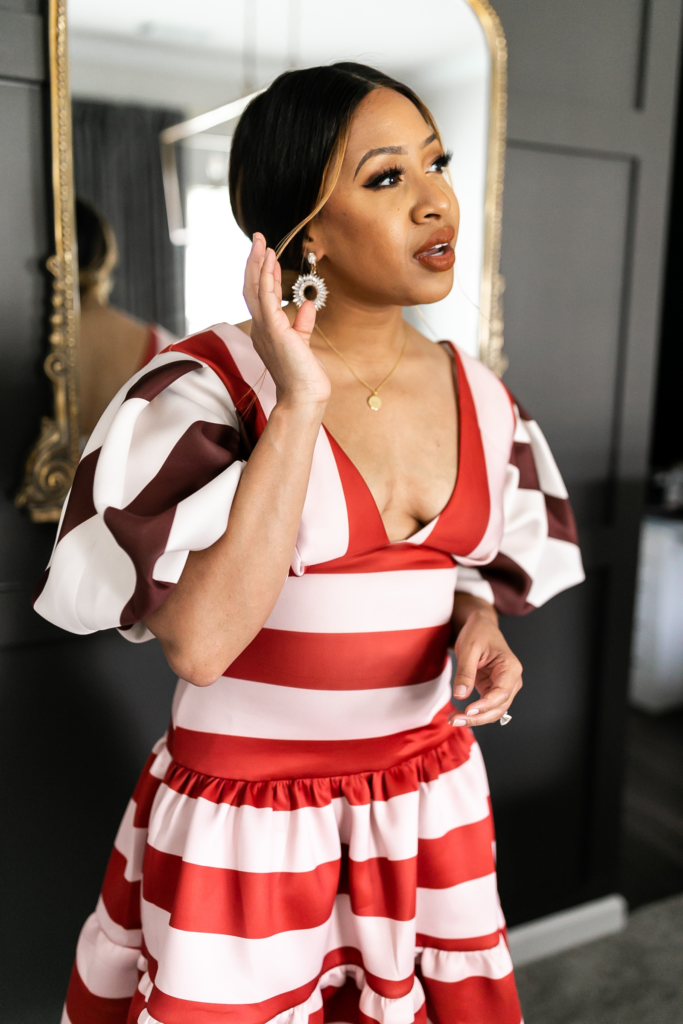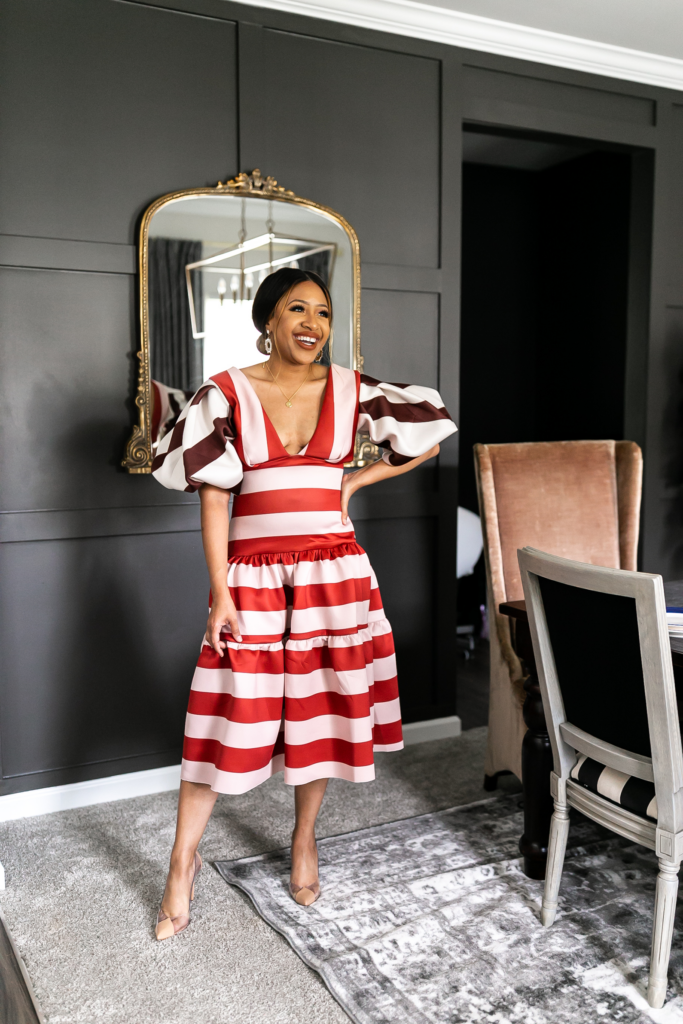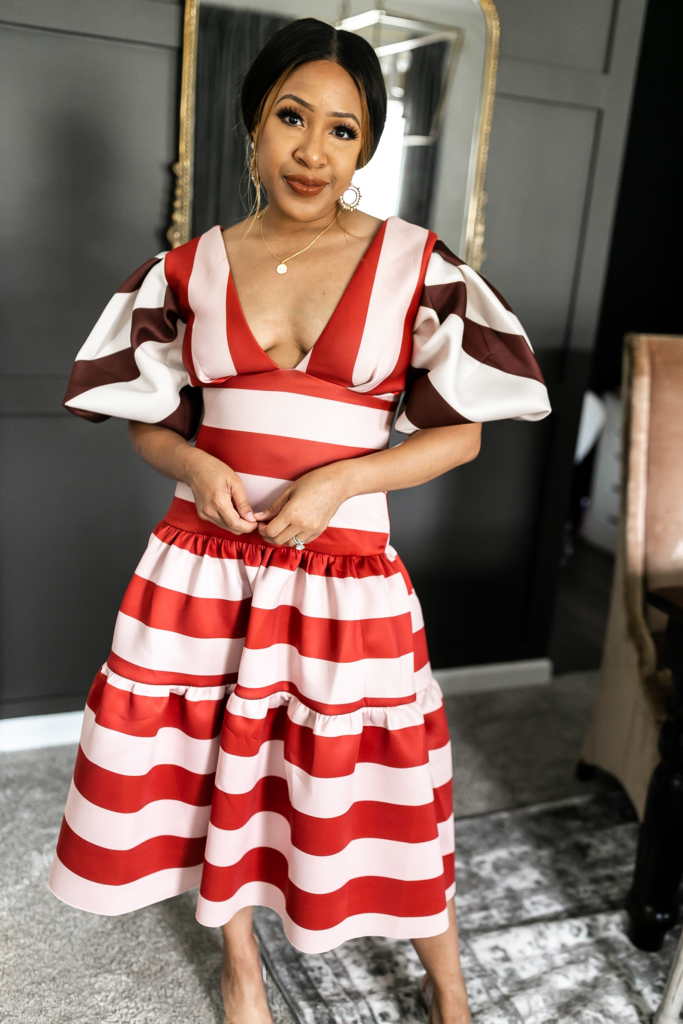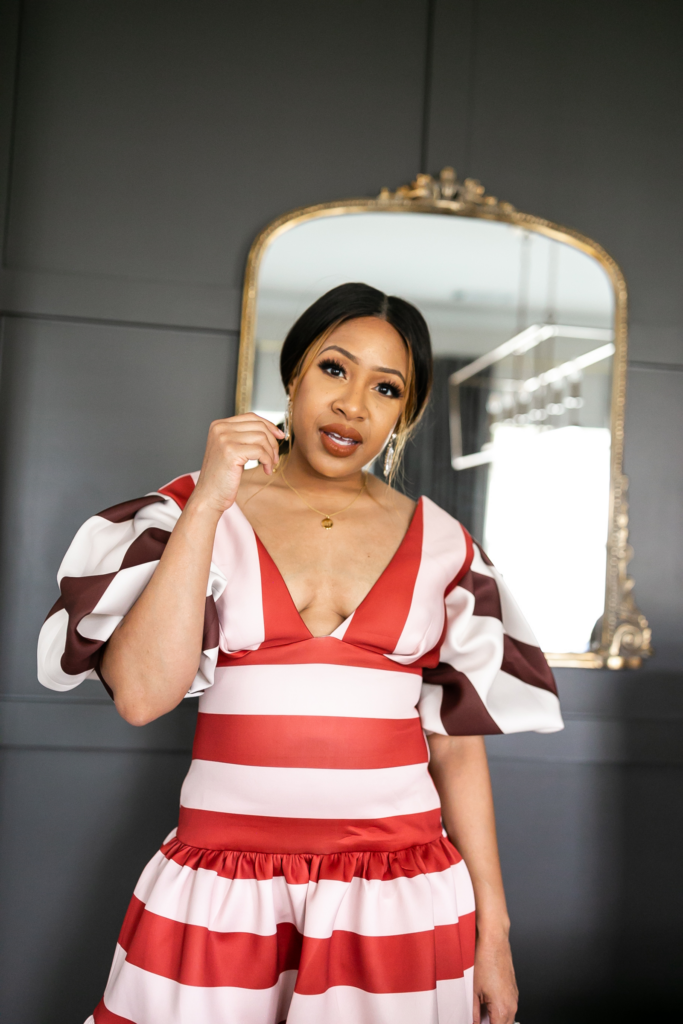 And just like that, it's October. I've been trying my best to answer your questions in detail with my monthly Q&A. Every month on Instagram Stories, I ask you guys to send me your questions so I can pick a few to answer in detail. This month you guys sent over quite a few and a lot of them I've answered in a previous monthly Q&A.
PHOTOGRAPHY // Erica J. Simmons
DRESS // SHOES // EARRINGS // MIRROR // NECKLACE // LIPSTICK
JavaScript is currently disabled in this browser. Reactivate it to view this content.
For September, I've answered 8 questions and I even filmed a video for it. Watch below! Below are the A's to your Q's for September.
How does your makeup look so good? What are your best tips for newbies?
Thanks so much! I really enjoy makeup and have been around it most of my life because my mom has worked for cosmetics companies most of my life. I got pretty serious about getting better at doing my makeup in my late twenties. Honestly, I just watched YouTube and learned from my favorites like Jackie Aina or Desi Perkins.
I would suggest learning from tutorials for sure, but I would also suggest that you use makeup that's compatible with your skin. If you have oily skin, try a mattifying or satin finish foundation. If you have normal/dry skin, opt for a dewy formula. Also pay attention to the colors that make your hair and eyes look good. Those details make a big difference.
How do you actually write your first blog post?
It's all about acknowledging your editorial process - the series of steps it takes to write your blog post. For the most part, the editorial process includes:
Research/Planning
Outlining
Writing
Editing
Formatting
Visuals
Scheduling
Publishing
Then you want to schedule when you will do each step of the process on your calendar. Very seldom do people do all the steps in one day. Sometimes it takes 2-3 days to get through the process. Give yourself time to execute and publish it once it's done. Not when it's perfect - when it's done. Done is better than perfect. Even for your first blog post.
You'll get better at blogging the more often you do it. I talk about the editorial process in this podcast.
What color/brand is your daily lipstick?
I believe I've answered this question in a previous post, but happy to answer here. I'm a huge fan of the Maybelline Super Stay Matte Lipstick in "Fighter." It's just a great color that looks great on everyone.
What are some best practices when brands reach out?
This is a good question. I'd say focus on 3 things…
Personalize - when you're researching a brand contact, be sure to find an actual person's name so you have someone to address in the email. You can find this on the brand's website, LinkedIn or even a previous press release.
Be Specific - if you're looking to collaborate on a blog post, Instagram post or YouTube video be sure to specify that in your ask. Vague asks get vague results, so the more clear you can be, the better.
Be Concise - Spare the brand contact your life story. They need you to get straight to the point. Be sure to keep it professional - you can be concise and appropriate (especially when you're clear.)
I discuss about what 3 things to ask before giving a brand your rate here.
With your busy life, how are you coping postpartum with body image and changes?
I'm doing okay. I have my good days and my bad days. I try my best to keep my diet balanced and move throughout the day. I've never really been a "I work out 4-5 days a week" kind of girl. But that's not to say I don't want to be. Things are more hectic right now because we don't have consistent in-home child care so I've prioritized other things over exercising. This is without question the most confident I've been in my skin. And probably the first time I haven't associated my worth with my clothing size. I'm really proud of my body and everything it's been through after giving birth to 3 babies.
I'm about two sizes bigger than my pre-pregnancy weight (before my first child) and about 15 lbs heavier. I don't know if I'll ever get back to my pre-pregnancy weight or if I really want to. For right now, I'm coping pretty well. Shoutout to self-love.
How do you know if a brand is legit to collaborate with?
I elaborate on this in the video, but Google the brand and see if they have any testimonials or other previous campaigns with other influencers. A simple hashtag search on Instagram or Google search with their "brand name + influencer campaign" is a good start. Another great search option is the "brand name + scam."
What's your favorite brand of coffee?
I really like Boss Blend coffee. Without a doubt, it is the smoothest coffee I've ever tasted without compromising the strength of it. It's also Black owned. I'm a Keurig coffee drinker and Boss Blend doesn't offer K-cups so for now, I put the grounds in a K-cup pod that I got from Amazon.
I also really like the Community Coffee Chicory & Coffee. I can only find the loose coffee grounds at my local grocery store so I just put it in my K-cup pod as well. However, while filming the video for this post, I found out that they make it K-cup pods. (So I will absolutely be ordering.) Community Coffee is a brand that mostly people from Louisiana drink (which is where Hubs' family is from; my mother in law put me on) and I love the flavor of chicory. It has a handful of health benefits as well.
With everything you juggle, how do you enjoy rather than let stress get to you?
Full transparency, there are more stressful moments than you probably think there are. That being said, I am deliberately more grateful than I am stressed. I have a very full and good life and I go out of my way to operate from a place of gratefulness - even if I have a couple of stressful days a week.
I am not jaded by the opportunity to essentially make a living off of being myself. I pinch myself daily and thank God all the time.
What are your tips for waking up early before the rest of the household wakes up?
This is much easier said than done. Ideally, I wake up 1-2 hours before my family does which is around 5a. My entire house wakes up around 7:30a and so having 1-2 hours to myself does my entire family good. (Here's what my morning schedule with 2 kids looked like last year.)
To do that, I have to be pretty disciplined about my bedtime and nighttime routine. Realistically, I need to be in bed around 10p to get up at 5a without a fight. I've been missing the mark the last couple of weeks because it gets dark earlier in the evening and takes the sun longer to come out in the morning. But for the next 6 weeks, I've got quite the workload and so it will become non-negotiable for me.
Because 5a is so early, I ALWAYS plan exactly every single thing in detail that I'm going to do in the morning so I don't have to think. When you autopilot your morning, it's more likely to happen.
If you're going to journal - decide exactly where you're going to sit and write, put out your journal and the pen you're going to work with. Same thing if you plan on reading a book. If your'e going to work out, put out your workout clothes, fill up your water bottle and make sure your Airpods are charged. You want to eliminate any small decision making in the morning.
Autopilot your morning to increase your chances of getting up early. Plus, it gives you something to look forward to.

That does it for September Q&A. I ask you guys to ask me questions every month on Instagram and I answer them in a monthly post like this. If I didn't answer your question, it's likely that I've answered it in a previous Q&A, podcast or YouTube video.