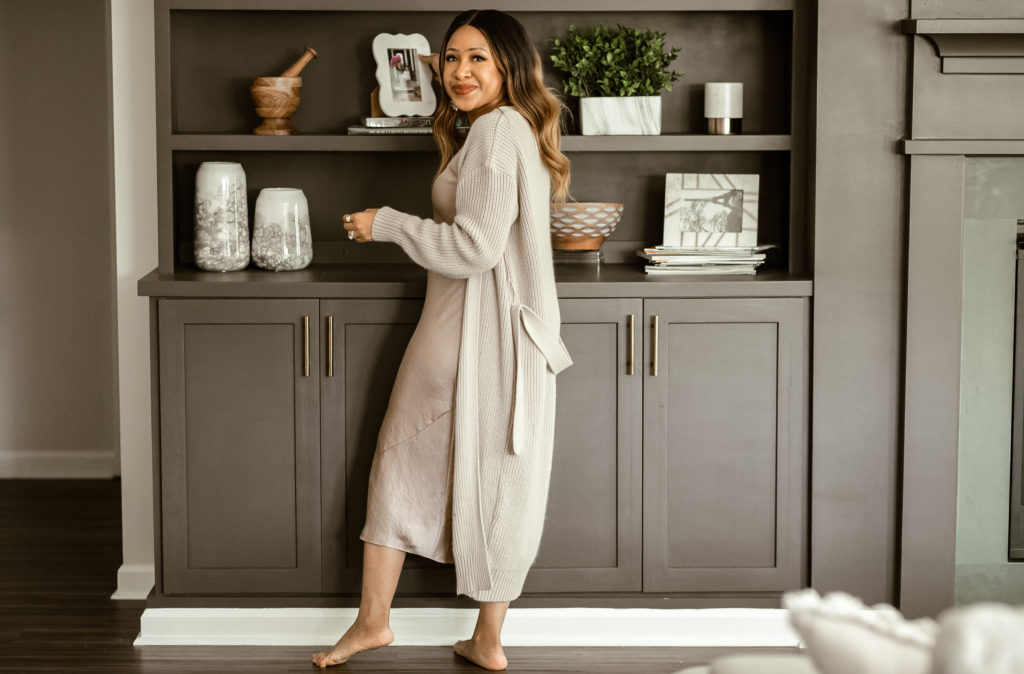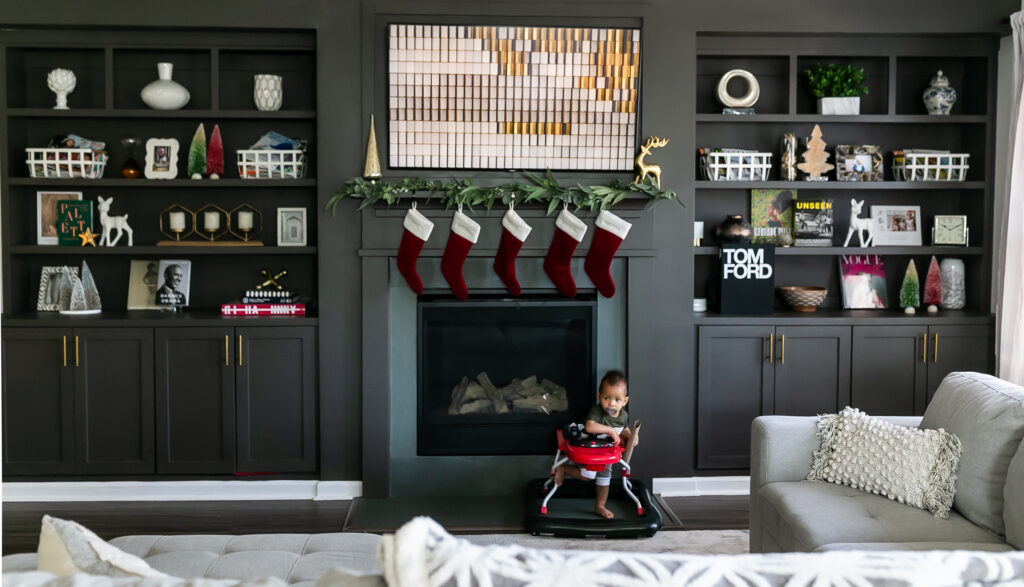 When we moved into our home in October 2019, I was so excited to have custom built-ins made for our living room. Of course when I moved in, I expected everything to be done in 3 months before having Christian (who was born in January 2020), but we all know that just wasn't realistic.
PHOTOGRAPHY // Erica J. Simmons 
DRESS (similar) // CARDIGAN (similar)

I ended up having Christian on New Year's Day – and after my maternity leave ended, the global pandemic happened which delayed our built-ins even longer.
I took these photos in the living room at the end of 2020 right before the holidays.( To give you an idea of what both sides of the built-ins look like, I've included a photo from the holidays above.)
Chris sketched out our built-ins and his sketch was beautiful. We ended up having to use a different subcontractor/cabinet maker than originally discussed because of a schedule conflict and the original sketch was overlooked.
The cabinets turned out very similar to the sketch, but some details – like drawers and the height of the shelves – were omitted. It certainly was frustrating at the time, but our contractor adjusted our price accordingly and we're pleased with how they turned out.
Chris designed the top 3 sections for statement accent pieces while the shelves could hold anything from decor, picture frames, books, magazines, baskets, candles and more.
We knew that we wanted a dark accent color throughout our home that wasn't black. We also decided that we wanted our built-ins to be painted in the dark color. The dark color we went with was Black Fox by Sherwin-Williams which is a deep charcoal gray. I absolutely love it. It is such a beautiful contrast with the brassy gold handles we went with. (We got the handles from Amazon. They're the same ones I have in my kitchen.)

My favorite feature of the built-ins is the soft close cabinets. The kids love going in and out of the cabinets and it's nice that these don't slam close shut when they do.
Right now, the decor is a little bit different and I've added all my books on the shelves currently while we wait for the basement to be finished. (Fingers crossed, soon!) Once the basement is done, I'll really put more effort into the decor and maybe have some brass library lights added to the top.
And that is what our living room built-ins look like so far. Once I update the decor and have lighting added, I'll give you guys a full living room of the complete look.