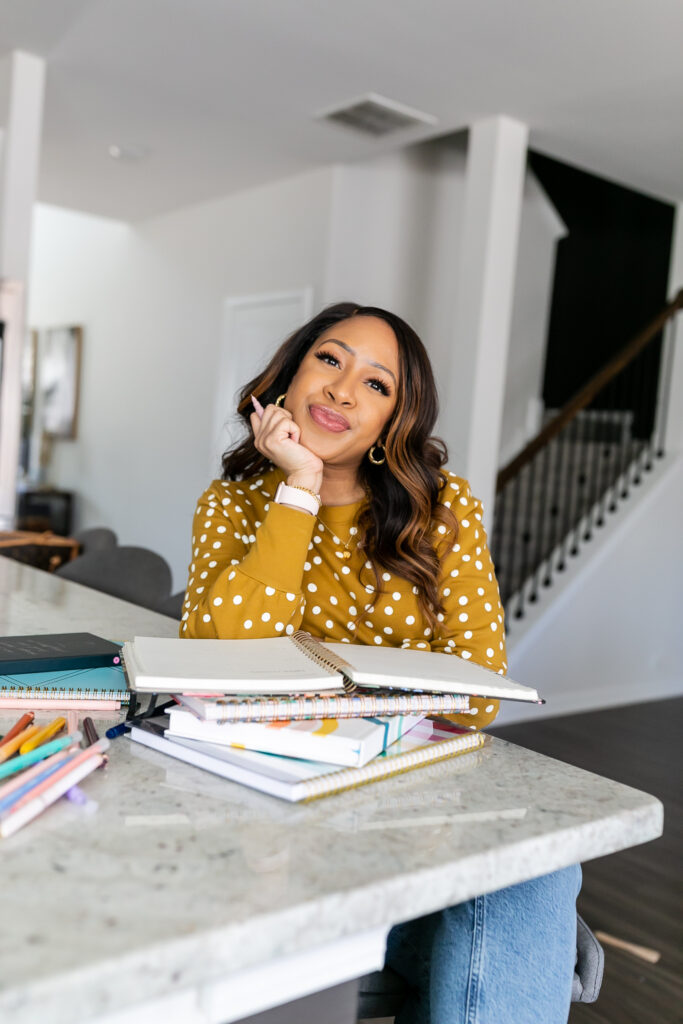 During my IGTV last week, I shared a few things that have made me more productive in the last few weeks. I believe it was 5 or 6 things, but I wanted to talk about the 2 things that have really made a difference for me.
Listen, I like planners, notebooks and things to do lists. Truly, I do. But what I realized is that when I make a plan for the week in my planner – it's usually in a rush and I'm writing down tasks that would be "nice to do" not must do's. And when I look back at my planner on a Thursday or Friday, I didn't end up doing over half of the things I wrote down.
This would be so frustrating to me because I truly intend to do what I say I'm going to do. Last year was so intense having all the kids home and still executing all of my work for brand partnerships. I absolutely needed to rectify this sooner than later.
THINKING TIME
The first thing I started doing at the end of 2020, is prioritizing "thinking time." This was a concept I learned from the book Power of Focus and implemented it for a week or so in 2018, but then never really applied again. When I scheduled "thinking time" in my calendar at the end of 2020, everything changed for the better.
First off, I had so much clarity. I had the time to think through ideas, and even think about what I would like to ask during a phone call that I had later on that day or week. When I wrote tasks down in my planner, they were much more clear and concise + things that helped me complete a project versus listing a bunch of things that kept me busy.
Productivity > busy. Always.
Prioritizing and using my thinking time everyday before I start work has been so major for my productivity.
But how do you know what you're supposed to think about during thinking time? (So it doesn't end up getting wasted.)
CAPTURING EVERYTHING
What I started doing throughout the day is capturing the thoughts I want to revisit during thinking time in my Notes app. (I got this idea from the book The Productivity Project.) Content ideas, appointments that need to be made, what's for dinner tonight, etc. Instead of thinking about things in real time, capture the initial thought on paper or in my Notes app so I don't forget and then release myself of that thought until my next thinking time session.
This is so freeing because it allows me to be present when I'm doing tasks because writing thoughts quickly as they come makes me close all the other tabs in my mind. I'm no longer held hostage by a looming idea because there's a designated time to think about it.
I typically opt to capture ideas and thoughts in my Notes app so I don't have a bunch of miscellaneous notes all over the place. I have thinking time scheduled 6-7a on weekdays because it's before everyone in my house wakes up and I am alert. I really enjoy early mornings in this current season of my life, so I really maximize thinking time. During thinking time I flesh out any idea I had the day before or earlier that week. I'll doodle a process to get further understanding on it. I'll even plan out what I want to say or ask in an important phone call.
I cannot emphasize how HUGE this is for me. It's made me move differently. It is so important to me. On my calendar, it literally reads "Thinking Time." It's scheduled.
I still use planners – in fact here are some of my favorites – but I actually complete what gets written down now.

JavaScript is currently disabled in this browser. Reactivate it to view this content.
Also, I'm no longer making 11 to 12 tasks long lists – it's more like 2 or 3. You don't have to get everything done in one day. Plus, it's way more important to get 2 or 3 things done 100% instead of 11 or 12 at 10%.
If you haven't tried scheduling thinking time or capturing everything that comes to mind, I encourage you to try it for a week and see if it works for you. It's certainly helped me close all the tabs in my head and made me more productive in the last 6 months.