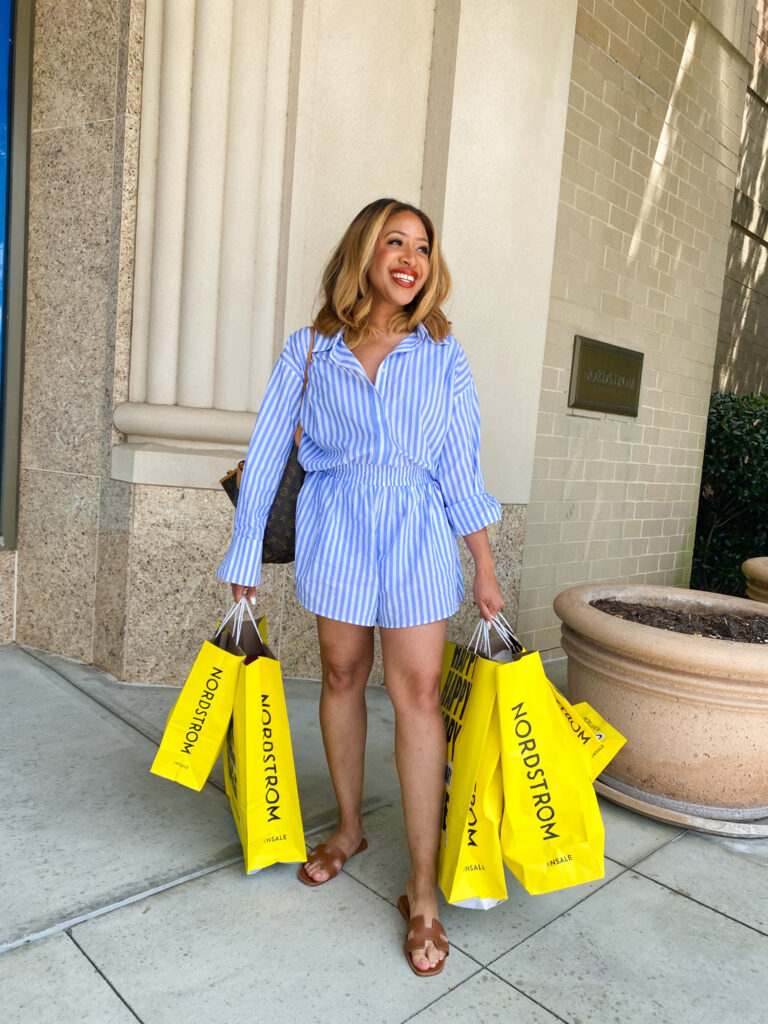 Ok, let's talk the 2021 Nordstrom Anniversary Sale. Since I can remember, my mom has always been so excited to shop the Anniversary Sale as a Nordstrom customer. As a kid and young adult, I never really got into it, but her enthusiasm has rubbed off on me the last few years. This year especially, I went into the anniversary Sale with a plan knowing exactly what I wanted to get and why to get it.
I typically shop via the Nordstrom app because it's so easy to shop and navigate. Honestly, since the pandemic has started, I've been doing a lot more online shopping and apps just make it easier. On Nordstrom's app you can make wish lists and save items you like. I especially encourage you to do this if you're shopping the Anniversary sale before you have access or even if an item is sold out and you're waiting to see if it'll be restocked during the sale. They've been amazing (and very intentional) at restocks to ensure everyone gets a chance to get the items they want.

WHY THE NORDSTROM ANNIVERSARY SALE IS BIG
I know, at first glance this doesn't seem like such a big deal. Nordstrom is around all year long and they have markdowns every now and again. However, the Anniversary Sale is noticeably different because the discounts aren't just all over the place. But they're from brands (like Tom Ford) that usually never have markdowns. Also, these markdowns are exclusive to the Anniversary Sale – so you don't see these discounts anywhere else.
It happens once a year – every July throughout the first week of August. This is great because it's at the end of the summer before we head into the busy seasons of life. The sale is such a great time to purchase for back to school, the fall and holiday seasons.
WHY I LIKE TO SHOP THE #NSALE
My mom has been a Nordstrom shopper for years and always took the Anniversary sale so seriously. For years I watched her get excited about the sale every year and plan out what she was going to purchase. I never understood why she was so invested but now I get it. 
I like to shop the sale for statement/splurge pieces that I've had my eye on for myself or a holiday gift for a loved one. When already expensive pieces are marked down, it's always nice to see how much you're saving and definitely is a benefit in my eyes.
This is also where I like to shop for closet and beauty staples because of the noticeable discount. Some of my favorite brands that I normally and regularly purchase at full price are marked down or offer exclusive sets. I'll usually stock up on those items for the season or the rest of the year.
WHEN TO SHOP THE #NSALE
Early access has been open since July 14 if you're a Nordstrom cardholder and depending on which level of cardholder you are. I'm an Ambassador so I've had access for a couple of weeks. But even if you're not a cardholder, the sale opens to everyone this Wednesday, July 28.
MY PICKS & MY SIZE
For the sake of order and clarity I organized my sale picks in categories – Beauty, Apparel, Home for you to browse. When I surveyed you guys on Instagram Stories, 80% of you mentioned that you don't shop the sale – so this post is for you. If it's your first time shopping the sale, the site can overwhelm you because there's so much to choose from. 
This year I had a pretty good mix of my go to's like Voluspa candles and some pieces for fall. I also realized how much I already owned that was on sale this year, so I've listed out those products as well.
For reference, I am in between sizes – in bottoms, I'm size 4/6 (27/28) or small/medium. In dresses I'm a 4/6 or small/medium. In tops, I'm a size small. I'm a size 8.5 in shoes. If I mention that a product is TTS, that means true to size.
NEW ITEMS I BOUGHT THIS TIME AROUND
BEAUTY
Sunday Riley Good Genes Home & Away Set
I've been using Sunday Riley for years and Good Genes is easily one of their top 3 products. This is such a great value because it's like you're getting the travel size one for free.
Tom Ford Ombré Leather Eau de Parfum Set
There's not much to say here – it's Tom Ford Ombre Leather on sale. I keep the travel size bottle in my purse. It smells warm and luxurious. (If you have never tried a Tom Ford fragrance, it is hands down worth it.)
APPAREL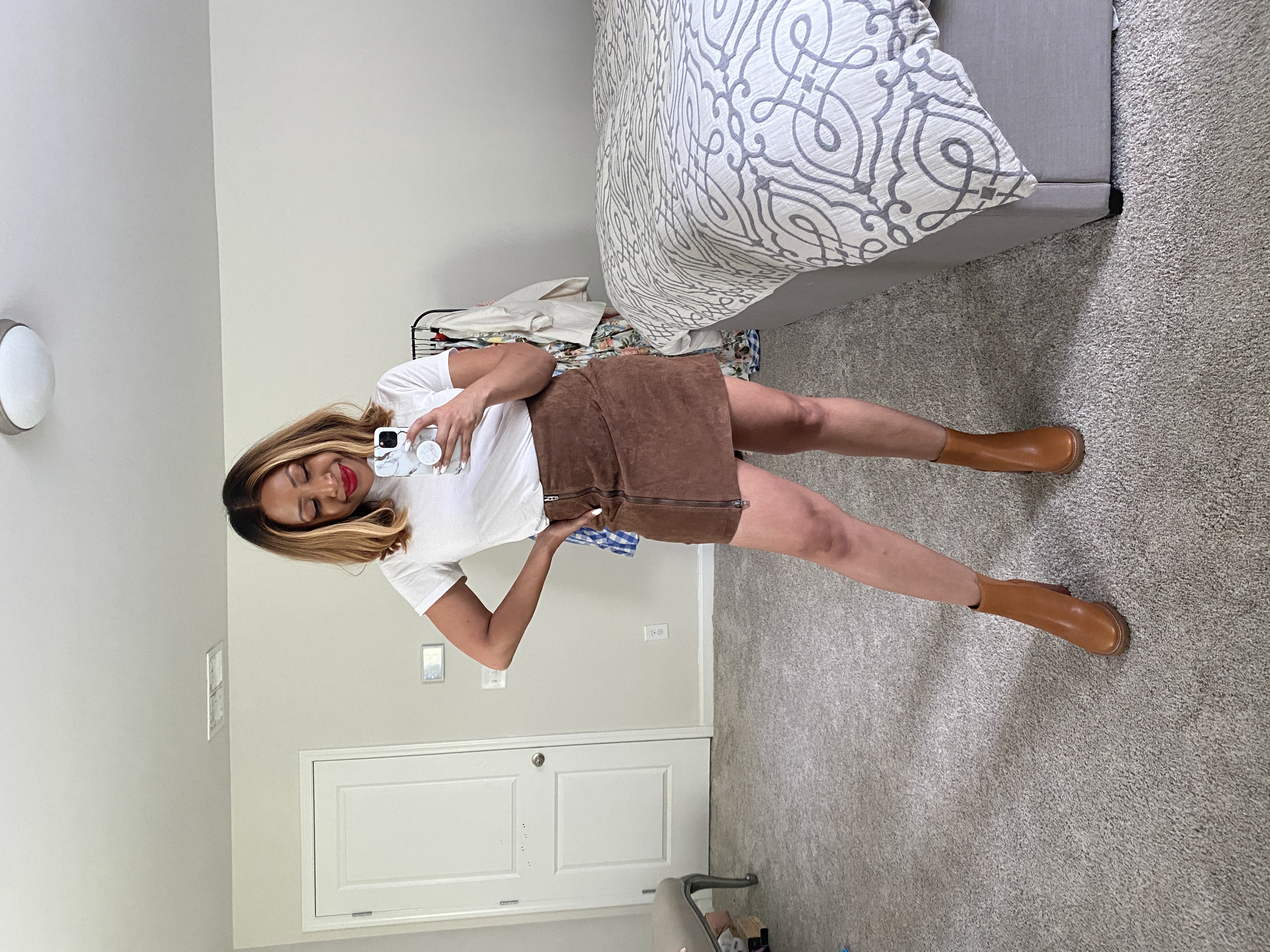 Brown Suede skirt with zipper detail
Honestly this is the perfect fall mini skirt. It's brown – which is my fall super color, suede and short without doing too much in my opinion. I love the zipper detail on it as well. If you're in between sizes, size down. I'm wearing a 27.
Biker jacket
This is such a great jacket. I'm the queen of buying a fast fashion biker jacket every year and this year I finally committed to buying a quality biker jacket. Without question, worth it. It runs small though. I ordered two sizes up for the perfect fit. I'm wearing a size 10.
Turtleneck sweater
I will never tire of an off white turtleneck sweater. It's one of those pieces that get so much wear in the fall and winter for me. I love how this one fits. It runs small, so order a size down. I'm wearing an XS.
Stripe knitted sweater
Unfortunately, this sweater is currently sold out in the striped version that I'm wearing here, but they have a gorgeous brown color that I linked. It's one of those sweaters that you can wear with everything from jeans, skirts or even over a dress. It's TTS. I'm wearing a size small.
Cream sweater
Full disclaimer, this is the most expensive sweater I have ever purchased (also the most expensive thing I bought this sale). And I can say with confidence that I have not one single regret. The fit, how it feels – it's a luxury and I will get so many wears out of this for seasons to come. Love how it looks with a half tuck with this skirt. It's TTS. I'm wearing a size small. 
Chunky heel booties
I'm almost embarrassed at how excited I was to buy booties. I'm really excited about the fall and I found two pairs of booties that I will be wearing all the time next season. These brown chunky heel booties are the perfect shade of brown to me. I probably could've gone a size down, but when I'm wearing socks or tights with them, I think they should be fine.
Brown knit cardigan
A good chunky knit sweater is a must for the cooler months. When I saw this open face cardigan it was a no brainer – it was coming home with me. I love how it looks with the skirt but also can't wait to wear it with so many other things.
Mother jeans
The Anniversary Sale is good for discounting high-end denim so I was excited to find a pair of these jeans. They fit perfectly and are TTS. I'm wearing a size 28. (If you're in between sizes, size up.)
Marc Fisher boots
These booties are so good with the jeans I bought. I love that they are a little different than the brown ones I bought. The toe on this is a little more pointed which I love with dresses and skirts especially. These are TTS.
HOME
Throw blanket
We are a blanket family and lately the kids have been very territorial over the current blankets we have on both the upstairs and downstairs sectionals so I treated myself to this blanket. They have such cute colors and print options.
Voluspa candles – set of 5
Voluspa candles – set of 2 (glass jars)
Even when the Anniversary sale wasn't a big deal to me, I always bought Voluspa candles from it. They have so many good sets that make amazing gifts for birthdays or the holidays. I have a lot of ladies in my life, I usually buy a couple of sets to use in the future. The tins are beautiful and make great storage after the candle burns out. The glass jars are also beautiful.
ITEMS I ALREADY OWN ON SALE

APPAREL

Madewell Cardigan
I purchased this cardigan in ivory earlier this year and when I saw this color, I had to have it. I ended up buying two by accident so I gifted it to my mom and she loves it too. It's TTS. I'm wearing a size small.

Initial Necklace
BEAUTY
Dr. Dennis Gross Skincare Pro Facial Steamer Set
TULA Skincare The Cult Classic Cleanser Set
Kate Somerville® ExfoliKate® Cleanser Daily Foaming Wash
Kiehl's Since 1851 Creme de Corps Body Moisturizer
Kiehl's Midnight Recovery Concentrate
Kiehl's Since 1851 Clearly Corrective™ Set
PMD Personal Microderm Pro Device
And that does it for my 2021 Nordstrom Anniversary Sale picks. Hopefully you find what you were looking for in this sale – things are going fast even when they are restocked.
The anniversary sale is open to everyone (even if you're not a Nordstrom cardholder) on July 28 through August 9.