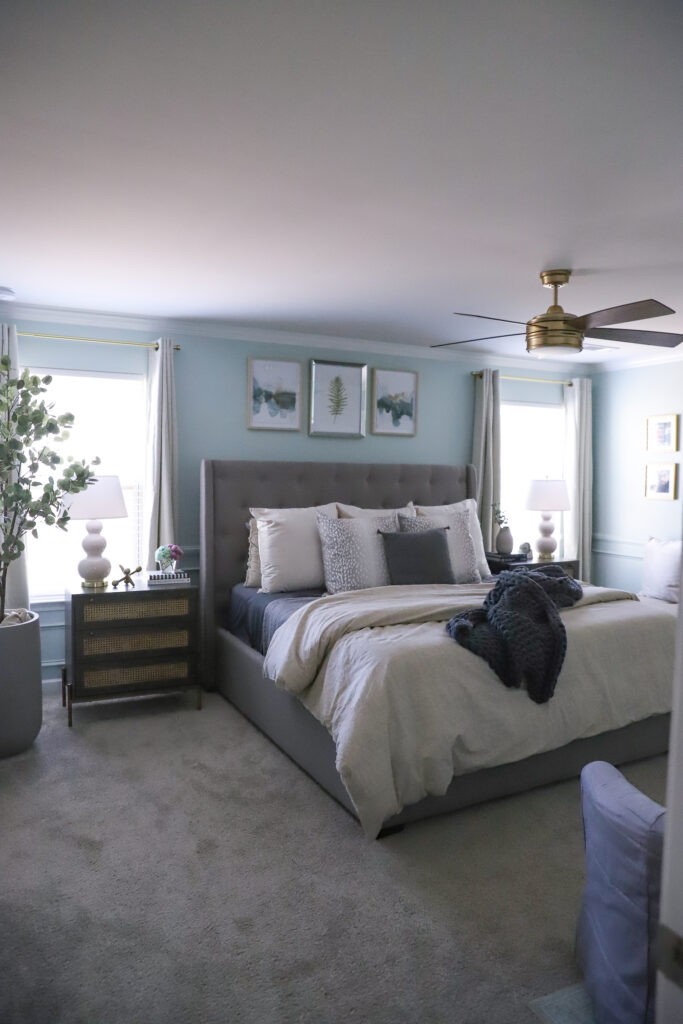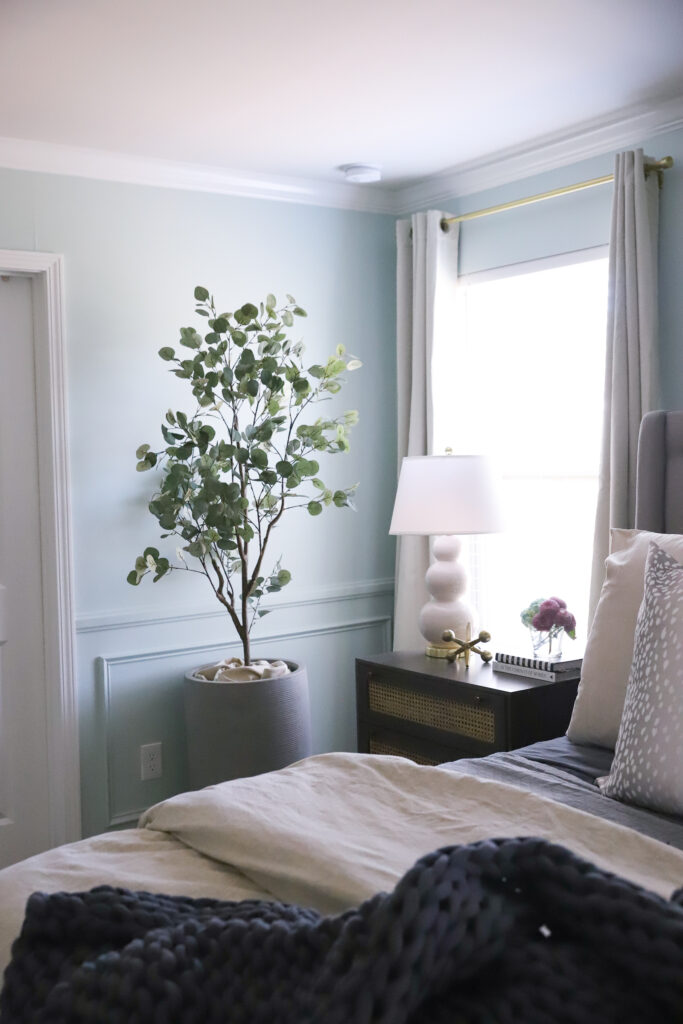 Really excited to be sharing our master bedroom reveal with you here on the blog. After being in our home for a little over 2 years it was about time. I knew I wanted our bedroom to be somewhere we could relax after the busyness of every day. When we had the opportunity to partner with our friends at Home Depot and BEHR paint to makeover our bedroom, we jumped at it. If you follow me on Instagram, then you may have already seen my master bedroom reveal reel and post. However, it was important to me to share the process and why we made the choices we did for those of you who had questions and are in the process of decorating your bedroom as well.
Bed (similar) | Comforter | Mirror | Printed Pillow Covers | Velvet Pillow Covers |
Lamps | Nightstands | Curtains | Curtain Rod | Faux Plant (similar) | Bench (similar) |
Picture Frames | Chair Covers | Chairs | Behr Paint in "Breezeway"

Shop any of the items mentioned by clicking the photos in Shop The Post or in the graphic.
If you're working with a modest budget, here's what I'll tell you from the jump: paint and curtains transform a space like no other. If you can spend money on only two things – it should be that.
When we looked at the paint color options BEHR had, it really didn't take long to make a decision. Their 2022 color of the year – Breezeway – grabbed my attention immediately. It's what I like to call "grown-up mint" and it transformed our room into a personal oasis. The color is soothing and relaxing which is exactly what we wanted. My wonderful husband painted the room all on his own – and I'm grateful for that.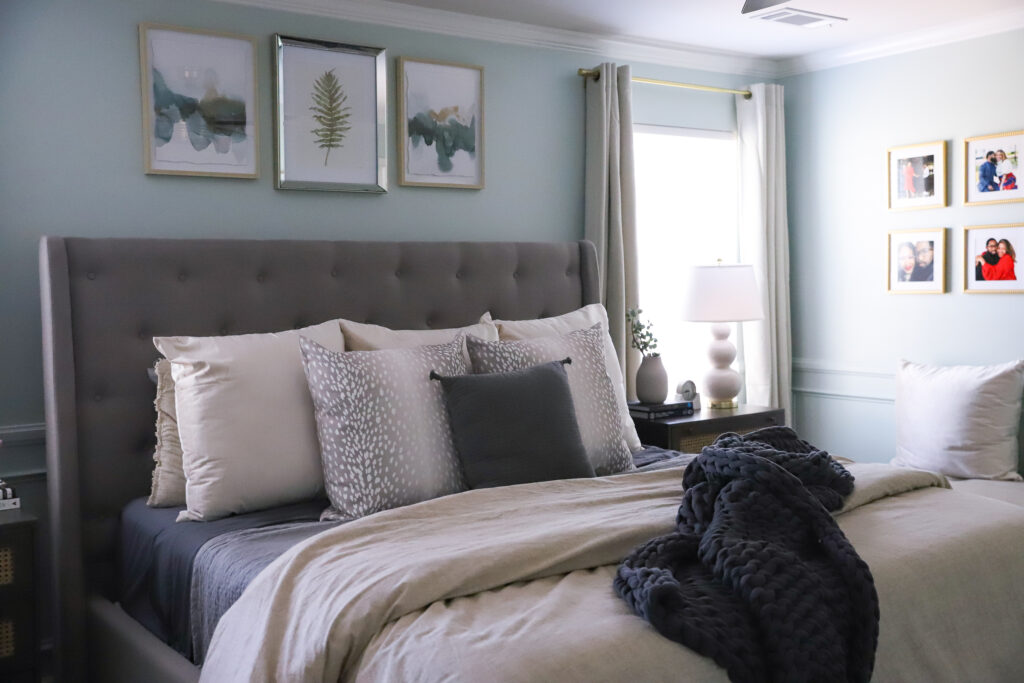 Breezeway as a color option was such a great choice to elevate the space, but the cherry on top was having trim and molding added as well. We went with picture frame molding on the bottom half of the wall and I'm pleased with how it turned out. While you can certainly DIY this (Pinterest has some solid tutorials), we hired this out happily to get it done quickly.
Once paint and molding were done, it was time to make decisions on furniture. We knew we were going to keep our bed because it is only a couple years old and we still like it. The key to freshening up our bed was finding bedding that matched the sophistication of the room which I'll go over in a minute.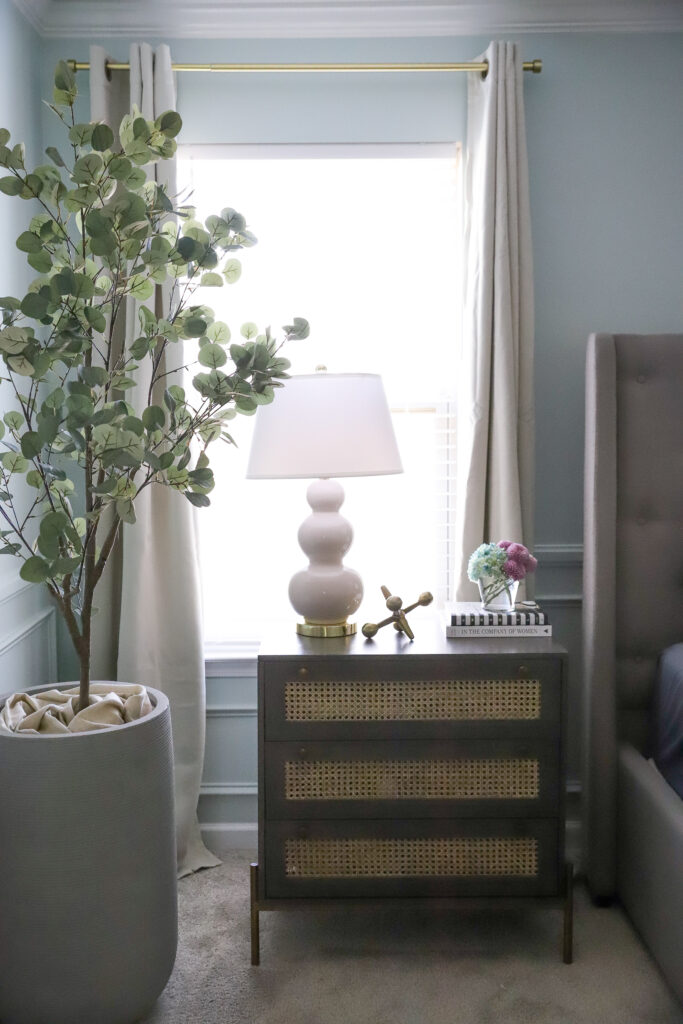 I knew that I was going to be getting rid of the old nightstands – I was no longer into them – and so we opted for a wider nightstand with 3 drawers for ample storage for whatever so the top on the nightstand could stay aesthetically pleasing.
We've had 2 Tullsta chairs from IKEA for years and honestly, they're just solid pieces in my opinion. What I really wanted to change was the color of the chairs, so I found these chair covers on Amazon (they were the perfect shade of gray). We also had an antique bench that Chris repurposed a few years in our previous home that I knew I wanted to keep in the room as well.
Then came the fun part – the decor! (This is where I come in.) The goal here was to pick decor pieces that felt both grown up but still like us.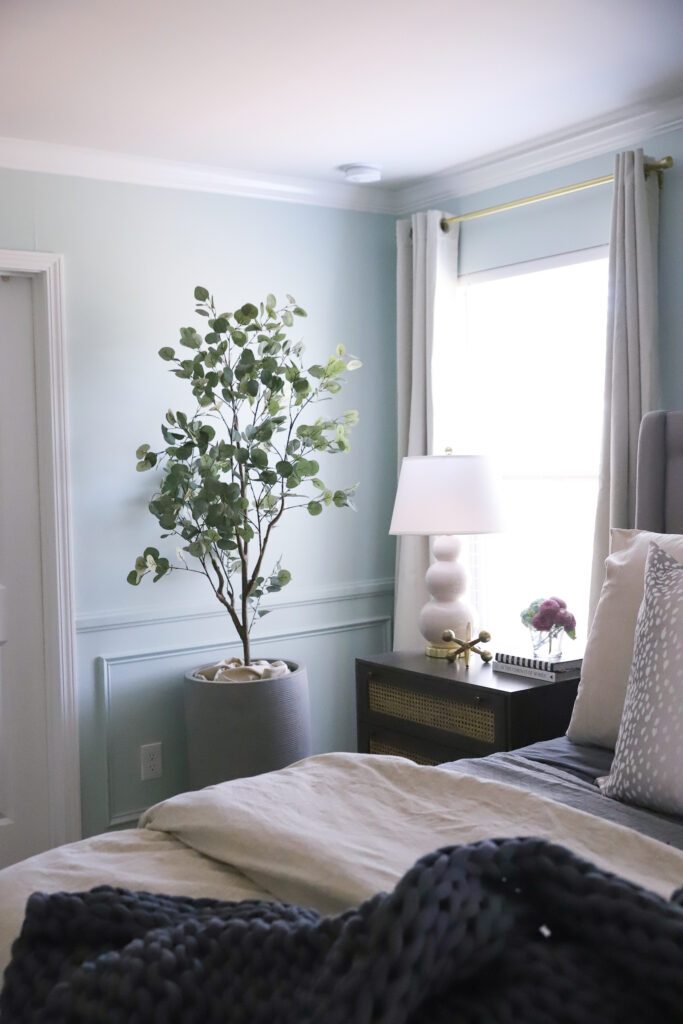 When I saw these lamps, it was another easy choice for the room that I made almost immediately. The shape was perfect and I liked them in white to break up the shades of gray throughout the room.
To style each nightstand, we added the lamps, a couple of coffee table books, decor (for Chris, a clock; for me, a gold figurine), and some type of greenery, whether fresh or faux. For Chris, I added a couple of faux eucalyptus stems in a neutral vase to finish his nightstand off. On my side, I opted for fresh flowers. (May end up buying an orchid in the long run.)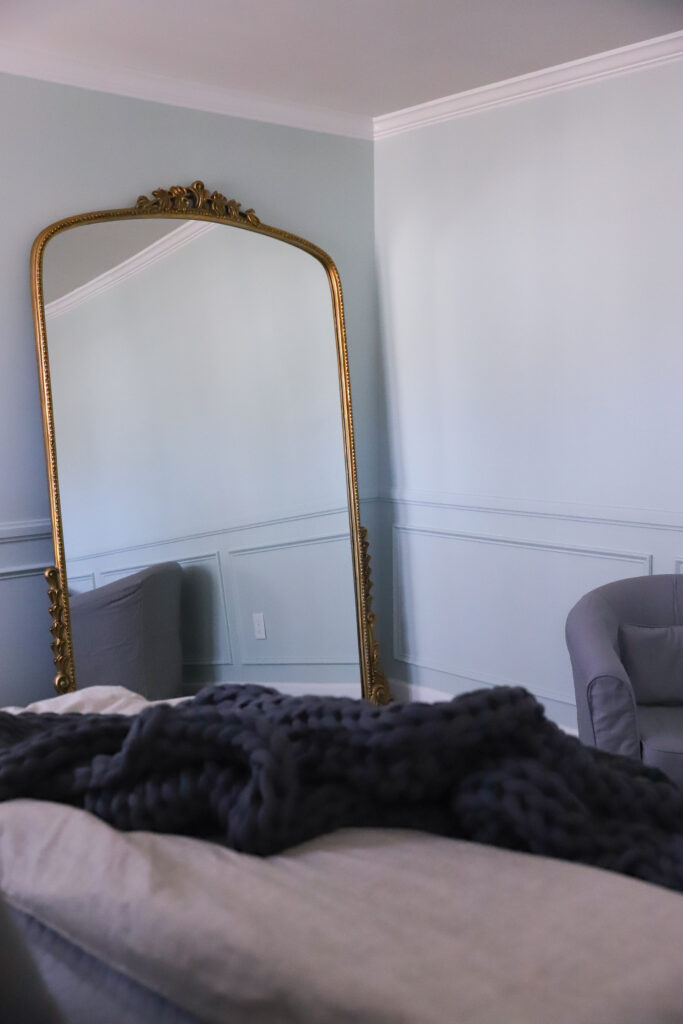 This mirror is the star of the room – it is my favorite piece and the piece you guys ask about the most. We have the 36" one in the dining room and the 72" one in our bedroom. Will always sings its praises. It's just GOOD.
For curtains, we wanted gold hardware and black-out curtains. I wanted light-colored curtains that weren't white, so when I saw these in pearl – I knew I had to have them. The hardware is from Target because the wait time on gold brass hardware everywhere else we looked was outrageous.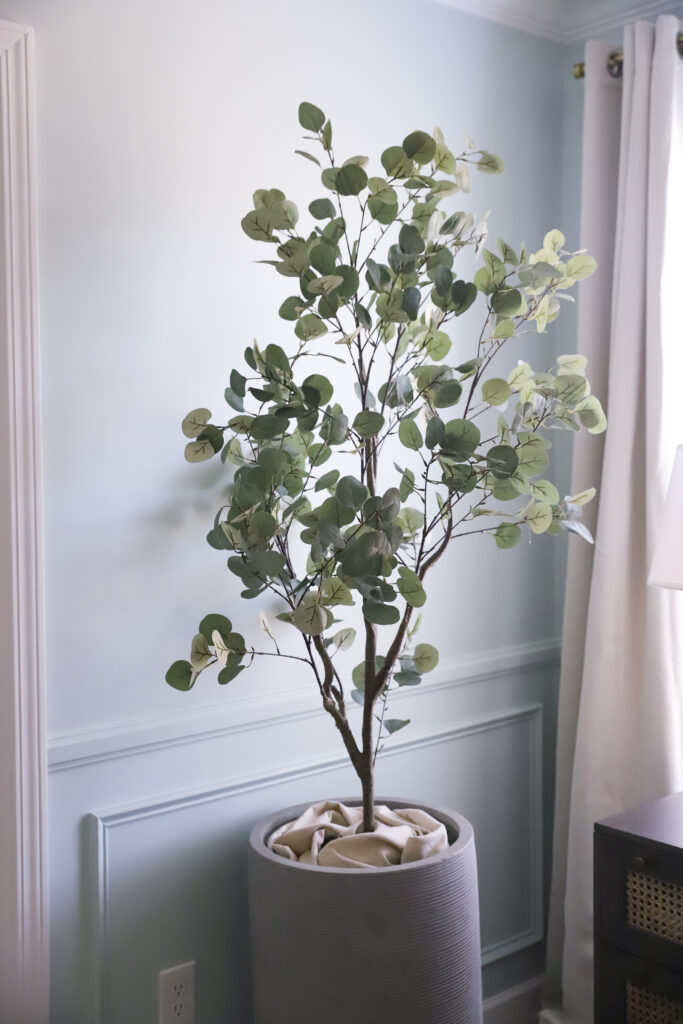 I am not a real-life plant lady and I wasn't about to start today, so I decided to find an artificial one that looked good. Found a faux eucalyptus tree that looks so good. Put it in a gorgeous planter and that was that.
When it came to bedding, I wanted to complement the gray bed frame. Came across this set in beige (sold out but available in gray) and when I first got it, it fell flat for me. However, it wasn't the comforter, it was how I was making my bed. Added a linen coverlet to go over the sheets, but under the comforter yet still visible. Then I added 6 decorative pillows – 3 26", 2 24" and 1 18" (I already had) to really elevate the feel of it. You know what serves as good inspiration to bed making? Hotel rooms. The beds in hotels always look so "together." I think I finally got my bed together.
Aside from the decorative pillows, I found some soft velvet pillow covers in a pearl color similar to the curtains and a couple of antelope printed ones to create some contrast.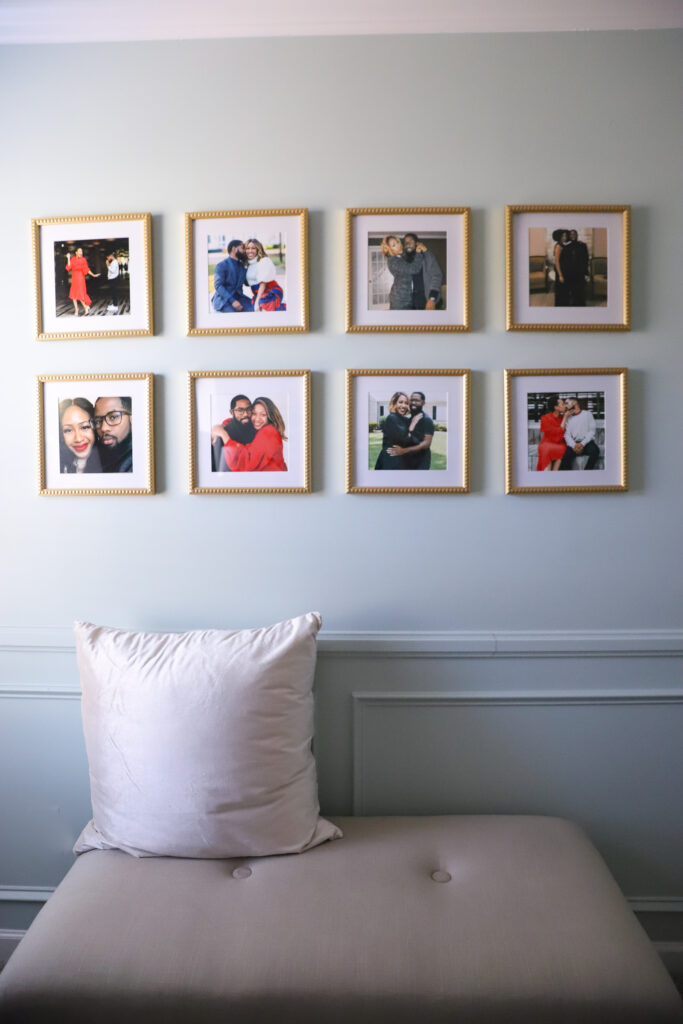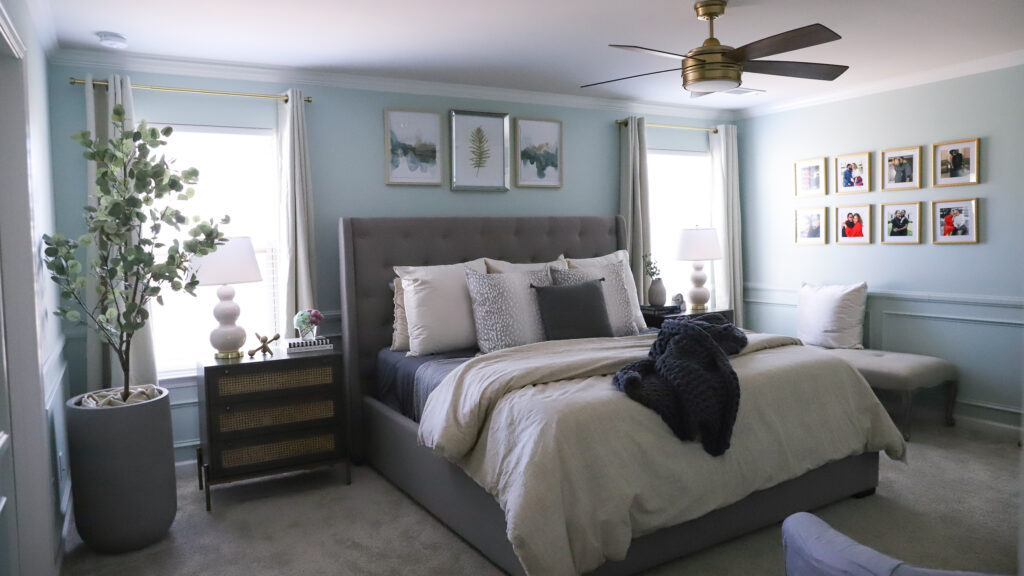 Lastly, we knew we wanted to have stuff on the walls. Above the bed, we repurposed some wall art we already owned but had never put up. We created a gallery wall of photos of us over the antique bench to create a sort of nook. The Gold frames we found for those photos are almost identical to the frame of the mirror. In our sitting area, directly across from the bed, we put up our wedding photo. That's the most unfinished part of the room, but I plan on adding a picture light above the photo and some wall art to make that wall complete.
And that my friends is our master bedroom reveal. I am so pleased with how it turned out. Without question, it's now my favorite room in the house.
What do you think?