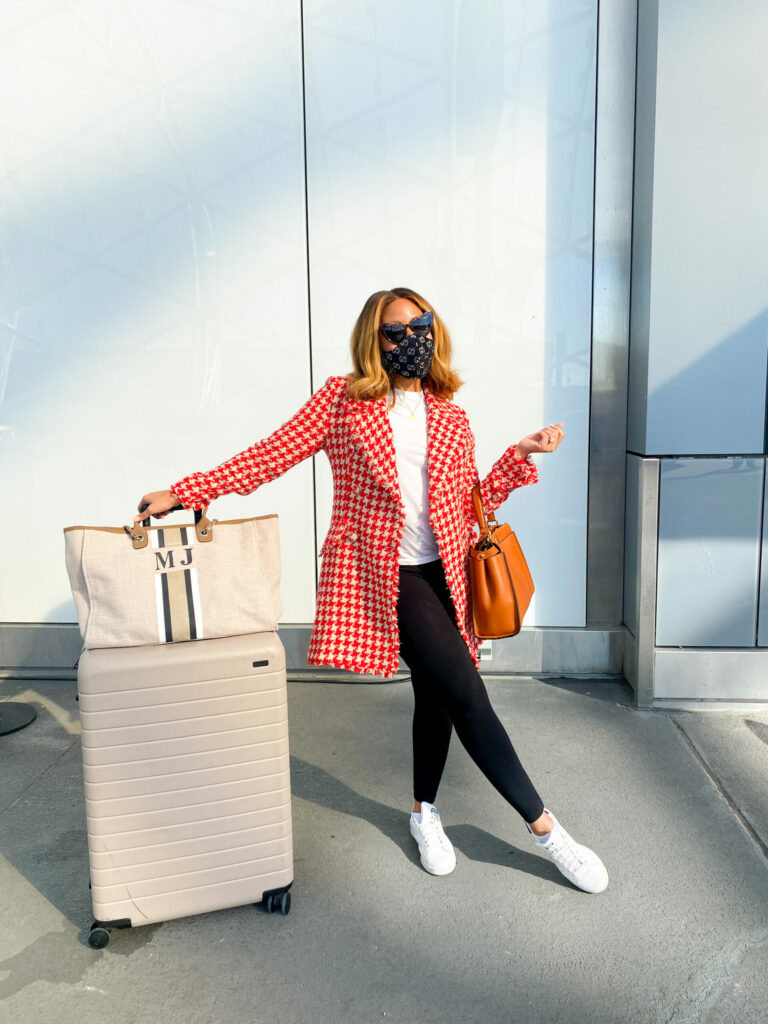 A Chic Airport Outfit Idea
Last week I went to NYC for a special project and wanted to look chic when I went to traveled. Finding chic airport outfit ideas is always something I search on Pinterest before traveling and I think I finally nailed the formula. When I travel I like to be comfortable yet presentable. I've worn everything from heels & a dress to comfortable sweats, but what I've learned is that it's all about balance.
JACKET // ZARA (similar here & here) — LEGGINGS // Target — SNEAKERS // Adidas —
BAG // Fendi — TOTE // Lily & Bean — SUITCASE // Away (in gray)
Without question I think this is my best airport look. Many of you asked about my jacket which I got from ZARA, last month. I found a couple of cheaper dupes here and here that are just as wonderful. But here is my go to airport outfit formula: white tee + black leggings + sneakers + chic cardigan/jacket/blazer/coat.
I love my Stan Smiths, but any cute & comfy sneaker works. Options like Reebok Classics, Nike Blazers, Golden Goose, Adidas Superstars or Chucks are great because they work for more any season and look great with the outfit formula.
When it comes to black leggings, the options are endless. I'm huge fan of the high waisted ones from Target, but Spanx also has some great ones, too. Most of us have black leggings at home already, so no need to go buy something new if you already have it. Here's what I will say though – having a pair of black leggings that make you feel and look good is useful for more than just an airport look. (They go great with sweaters and/or dress especially in the fall or winter.) If you're traveling in the colder months, try finding a thicker pair to stay warm.
White t-shirts are a staple for almost everyone and if you follow me on Instagram you know I swear by this one (it's only $5!) and have a couple of them.
My favorite part of an airport look is the outerwear because this is where you can make it your own. If cardigans are more your style, wear that. But you can wear anything from a trench, blazer or peacoat depending on the weather, season and your personal style. This ZARA jacket made a chic statement while being comfy and looked great with the leggings and t-shirt.
And while this is not necessary to the formula, I like adding a pair of oversized sunglasses. I don't ever wear makeup when I'm traveling so it's a quick instant way to look glam without wearing makeup on the plane. My Saint Laurent LouLou sunnies are my favorite, but here's a similar option for $11.