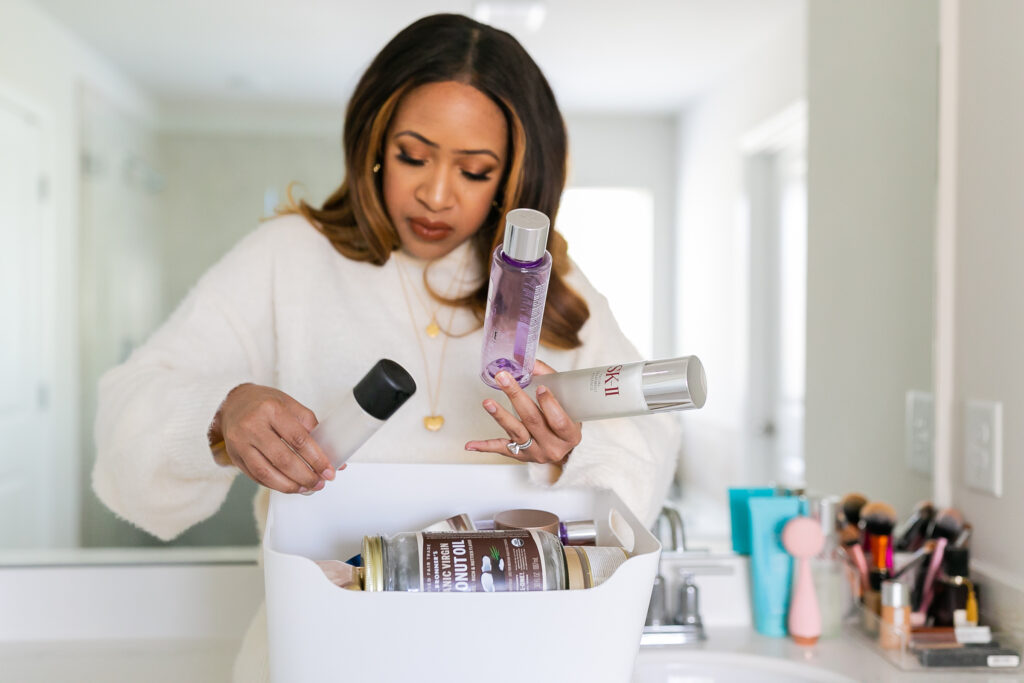 In this week's IG Live – now on my IGTV – we had so much fun talking about my 2020 empties (some were from 2019). I've got quite a solid list of products that work so well for me. I wanted to share them with you because – ya know – that's what we do here.
For this week's 10 Things, here are my most frequent beauty and makeup empties (aka products I've used all up).

JavaScript is currently disabled in this browser. Reactivate it to view this content.
CLINIQUE TAKE THE DAY OFF MAKEUP REMOVER & CLEANSING BALM
I have been using the Clinique Take The Day Off Makeup Remover for Lids, Lashes and Lips AND the Clinique Take The Day Off Cleansing Balm faithfully for the last 2 years. 
I aways remove makeup as the first step of my nighttime skincare routine and it has done my face so much good. The makeup remover gets off waterproof mascara, liquid liner and liquid matte lipstick so easily. I always have a backup of each of these products.
BIOSSANCE SQUALENE + OMEGA REPAIR CREAM
When I did the IG Live yesterday, I didn't realize that I had 3 empty containers of this stuff. The Biossance Squalene + Omega Repair Cream is the first product I've used from this brand and I must say – worth it. It was my go to daytime moisturizer for a minute and I plan on revisiting this summer. 
SK-II FACIAL TREATMENT ESSENCE
If you've been following me for the last couple of years, you know that the SK-II Facial Treatment Essence is one of – if not, my absolute – favorite skincare product. Since, I started using it, my skin has consistently been both clear and smooth. I use it in both my morning and evening skincare routines.
ANASTASIA BEVERLY HILLS BROW WIZ
I know that there are so many great brow products out there, but Anastasia Beverly Hills Brow Wiz has been my go to. It's low fuss and as someone with sparse brows, it's the gift that keeps on giving.
TULA PURIFYING CLEANSER
The Tula Cult Classic Purifying Cleanser is such a great gel based cleanser. Really gets your pores clean without stripping your skin's moisture. I really enjoy using it in the warmer months.
TULA GLYCOLIC ACID TONER
Paired with the purifying cleanser, the Tula Pro-Glycolic Acid toner is such a great compliment. As someone with texture issues, I like to use products with active ingredients and this toner was such a great addition to my evening skincare routine.
NARS RADIANT CREAMY CONCEALER
The NARS Radiant Creamy Concealer is the best. Simply the best. I wear the shade Sucre D'Orge (Med/Dark 1.5). 
PAT MCGRATH SKIN FETISH SUBLIME PERFECTION FOUNDATION
Ok, let me start off by saying the Pat McGrath Skin Fetish Sublime Perfection foundation is just that…perfection. It is also $68. Very expensive, but absolutely worth it. I wear the shade Medium 18.
AFRICAN PRIDE MOISTURE MIRACLE PRE-SHAMPOO
As a self-proclaimed lazy natural, the African Pride Moisture Miracle Pre-Shampoo makes detangling a breeze. It is the best detangler in the market for natural hair. I buy is in threes!